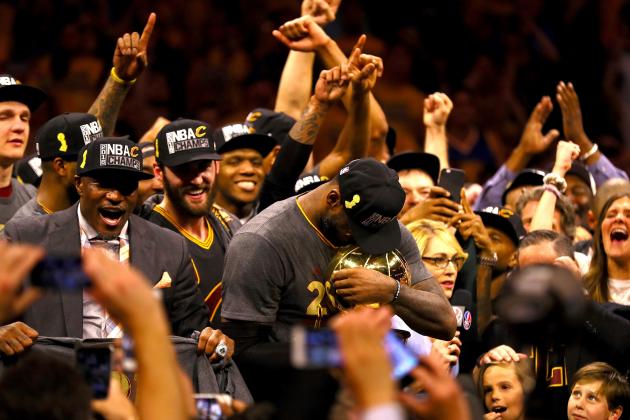 We are only a few days away from the start of yet another NBA season. After one truly wild offseason, one that saw
the titanic move
of one Kevin Durant to a team that only won more games than any other in history, how will things shape up this year? Will the Warriors come out on top for the second time in three years? Will the Cavaliers become the first team to repeat in seven years? Or will we see a surprise champion?
Here are the B-Flo 360 NBA predictions.
Coaching Carousel
Atlantic
I think you will see a good dog-fight between the top two teams here for the division title. I do give the edge to the
Celtics
because I think the Al Horford signing will be a big difference. He gives them a go-to scorer in the paint and his defensive skills should help improve an already-strong defense. They still have a deep roster and still have Brad Stevens as their coach, so they're doing all right. The
Raptors
are also doing all right after the finest season in franchise history and they've got most of their key guys back. I just don't see them any better unless Jonas Valanciunas takes that leap folks have been waiting for. If everybody comes together (Kristaps Porzingis gets even better, Carmelo Anthony keeps doing what he's doing, Derrick Rose and Joakim Noah stay healthy), the
Knicks
can and probably will make the playoffs. There is just too many ifs with this team, although the aforementioned Porzingis should improve under a more uptempo system of new coach Jeff Hornacek. There is some reason for optimism for the
76ers
for the first time in a while as Joel Embiid is (finally) healthy and Dario Saric will be making his debut as well but that hope got blunted by Ben Simmons' foot injury. They are still not anywhere near the playoffs since their roster is still incredibly imbalanced and for the sanity of us all, they have to stop playing Nerlens Noel next to Jahlil Okafor. And for the
Nets
, if they are not at the bottom yet, they are getting close. They do have a good player development coach now in Kenny Atkinson and there are some interesting pieces to work with for the future (I've got my eye on Rondae Hollis-Jefferson). But if they win 20 games, I think they'd be happy.
1
Boston Celtics
(2)
2
Toronto Raptors
(3)
3 New York Knicks
(10)
4 Philadelphia 76ers (14)
5 Brooklyn Nets (15)
Central
When you're talking about the
Cavaliers
, it is obviously going to be championship or bust. Nobody would deny that they are the top team in the Eastern Conference and it would be truly stunning if they failed to make the NBA Finals. There is some intrigue with the rest of the Central Division and it could shape up a few different ways. I don't think that going from Frank Vogel to Nate McMillan is necessarily an upgrade for the
Pacers
, but Paul George may just be poised to take another step and hopes are high for young big man Myles Turner, who showed a lot of game as a teen rookie. They also have some solid secondary scoring options and Jeff Teague should be an improvement at the point over George Hill. Stan Van Gundy oversaw some real improvement from the
Pistons
last season and I do think they will get better, especially if guys like Kentavious Caldwell-Pope and (yes) Andre Drummond take further steps forward and if Jon Leuer and rookie Henry Ellenson can help space the floor at the four, but being without Reggie Jackson to start the season does not help the cause. The
Bulls
made some odd moves this offseason and I don't think anybody knows how a Rajon Rondo-Dwyane Wade backcourt is going to work when you factor in Jimmy Butler as well. To get back into the postseason, Fred Hoiberg has to get the Bulls to play better defense. Once again, the
Bucks
have a bunch of intriguing pieces in their frontcourt and besides, who doesn't want to see Giannis Antetokounmpo run the point? The further development of Jabari Parker will be cool and who knows what they'll get with Thon Maker but they are really going to miss Khris Middleton and I just don't see enough shooting on this roster.
1
Cleveland Cavaliers
(1)
2
Indiana Pacers
(5)
3
Detroit Pistons
(7)
4 Chicago Bulls
(9)
5 Milwaukee Bucks
(11)
Southeast
The
Hawks
should be the top team in the division yet again but after this offseason, I'm not certain that they got better after losing Al Horford in free agency and trading away Jeff Teague. Perhaps Dwight Howard can revitalize his career in his home town but he has been on the decline for a few years now and I don't see that changing. I do like point guard Dorsey Schröder and he is very talented but he will have to step up his game to replace Teague. Expectations were not high for the
Hornets
going into last season and yet they got into the playoffs behind strong three-point shooting and a great year from Kemba Walker. They did lose a number of key guys this offseason but they also will welcome a healthy Michael Kidd-Gilchrist back and coach Steve Clifford always does a good job. I think that the
Wizards
should return to the playoffs after an active offseason that saw a number of additions to build frontcourt depth but can Bradley Beal ever stay healthy and can he and John Wall play together without hating each other? The rebuilding process only continues in Orlando as the
Magic
have their fourth head coach in three years in Frank Vogel. There are still young players with a good amount of promise (Elfrid Payton and Aaron Gordon to name two) and they made aggressive additions to their frontcourt after signing Bismack Biyombo and trading for Serge Ibaka, but they're still not any closer to the playoffs. The Big Three are effectively all gone from Miami and that leaves the
Heat
as a mess, even after spending big-league to bring back Hassan Whiteside. Hopes are high for young swingmen Justise Winslow and Nick Johnson but this roster is now a mess.
1
Atlanta Hawks
(4)
2
Charlotte Hornets
(6)
3
Washington Wizards
(8)
4 Orlando Magic
(12)
5 Miami Heat
(13)
Northwest
Speaking of teams that surprised many a season ago, the
Trail Blazers
were not considered by many to get to the playoffs, let alone advance to the second round (albeit after defeating a hobbled Clippers team) and I think they'll do well yet again this season. People are looking for a breakthrough from the
Jazz
and you can count me in with that mindset, even with regard to Gordon Hayward being out with a broken finger. George Hill will be an upgrade at the point even if Dante Exum is healthy and if this team gets any sort of improved health from a year ago, they'll be in the playoffs. We all know about Kevin Durant leaving town but even as they may not be particularly great at either shooting the ball or playing defense, the
Thunder
should still be a playoff team behind what should be a spectacular season from Russell Westbrook. They should be able to clean up the glass on both ends and a Westbrook-Victor Oladipo backcourt will certainly be aggressive. Bringing in Tom Thibodeau should be the kind of move that turns the
Timberwolves
into contenders, particularly as Karl-Anthony Towns looks like a star and Andrew Wiggins and Zach Lavine are on the rise but that would certainly be a sizable leap from where they were into the playoffs. The
Nuggets
are still building and are very young but they do have some intriguing pieces. They do need Emmanuel Mudiay to further develop at the point as well as Danilo Gallinari to finally stay healthy.
1
Portland Trail Blazers
(4)
2
Utah Jazz
(5)
3
Oklahoma City Thunder
(6)
4 Minnesota Timberwolves
(11)
5 Denver Nuggets
(13)
Pacific
I can't recall a team as fully loaded as these
Warriors
are. After all, what team wins 73 games and then adds a guy like Kevin Durant to a core of Stephen Curry, Klay Thompson and Draymond Green? Yes, the bench definitely took a hit but again, they just added Kevin Durant. I can't get over this. The
Clippers
may be running out of time to crack the NBA Finals but this team should be damn good again. The key guys (Chris Paul, Blake Griffin, DeAndre Jordan, Jamal Crawford) all return and if Doc Rivers pushes the right buttons, there is no reason why they shouldn't reach the Western Conference Finals. Then there's a big drop-off to the
Kings
. Dave Joerger should be a better fit for this franchise than George Karl but with that front office, who the hell knows. DeMarcus Cousins should be brilliant yet again and I think Willie Cauley-Stein could flourish defensively under Joerger but there just isn't enough here to crack the top eight. The
Suns
were a total mess a season ago and while they aren't any closer to getting back to the postseason, they could be fun to watch as they do have some intriguing young talent, particularly with first-round picks Dragen Bender and Marquese Chriss and last year's first pick, Devin Booker. After Byron Scott finally got his ass canned, the
Lakers
at least have a future that looks promising with second overall pick Brandon Ingram pairing with D'Angelo Russell. But that future will certainly not come in 2016-17.
1
Golden State Warriors
(1)
2
Los Angeles Clippers
(3)
3 Sacramento Kings (12)
4 Phoenix Suns (14)
5 Los Angeles Lakers (15)
Southwest
Who knows what will end up happening with those LaMarcus Aldridge trade rumors but the
Spurs
are still certainly the class of the Southwest and perhaps the team best suited to take out the Warriors. After all, this is Kawhi Leonard's team now although going from Tim Duncan to Pau Gasol doesn't help the defense. In swapping out Dave Joerger for David Fizdale, the
Grizzlies
may no longer be the grind 'em out club that has made them a consistent playoff team, although they still should be pretty good defensively, but the performance of high-dollar acquisition Chandler Parsons will help to determine who much the team evolves. The
Rockets
don't look to be playing any defense this season, and considering their new head coach, nobody would be surprised, but this offense should be strong enough to keep them in the playoffs. James Harden is still a star and now he's surrounded by even more shooters (guys like Eric Gordon and Ryan Anderson) that suit Mike D'Antoni's scheme well. Anthony Davis may have been a slight disappointment, he is still a spectacular player to watch for the
Pelicans
. I'm just not certain about the supporting cast even after a very active offseason. And with the
Mavericks
, you can't ever count out a Rick Carlisle-coached team and one that still features Dirk Nowitzki but Carlisle is going to have his work cut out for them in making this a quality defending club, particularly if they fail to stay healthy.
1
San Antonio Spurs
(2)
2
Memphis Grizzlies
(7)
3
Houston Rockets
(8)
4 New Orleans Pelicans (9)
5 Dallas Mavericks
(10)
Eastern Quarterfinals
1
Cavaliers
vs. 8
Wizards
Not to take anything away from the Wizards but let's get real here, it would take some sort of extraordinary circumstance for the Cavs to fall in the first round of the playoffs.
Cavaliers in 4
4
Hawks
vs. 5
Pacers
This projects, at least to me, as the most competitive series in the Eastern Conference but I actually think the Pacers are the superior club here. I do think that the hits the Hawks took in the offseason will come back to hurt them here.
Pacers in 6
3 Raptors vs. 6 Hornets
Having Michael Kidd-Gilchrist healthy gives Charlotte more edge defensively but this Toronto club is still more balanced and that will be the difference.
Raptors in 6
2
Celtics
vs. 7
Pistons
What could make the Pistons a little more troublesome for the Celtics is if Andre Drummond puts together a dominant performance here. But even then, Al Horford is a good enough defender to handle him and prevent an upset.
Celtics in 5
Western Quarterfinals
1
Warriors
vs. 8
Rockets
Points, points and more points. The Rockets should at least be able to keep it interesting but considering they're going to play no defense here, Golden State may put up 150 on them.
Warriors in 4
4
Trail Blazers
vs. 5
Jazz
While the Blazers have the star in Damian Lillard, I do think that the Jazz are deeper over the course of their roster and I think that will carry them here.
Jazz in 7
3
Clippers
vs. 6
Thunder
Russell Westbrook will do his best to carry the Thunder onward but I don't think that that team as is projects as a great playoff team considering I'm a little concerned about them defensively. Considering a tough out for a five game set.
Clippers in 5
2
Spurs
vs. 7
Grizzlies
Even as they move away from their heavy defensive focus, Memphis should still be a tough out provided they are healthy. But I don't see the upset happening here.
Spurs in 5
Eastern Semifinals
1
Cavaliers
vs. 5
Pacers
I think that Paul George is ready to take another leap as a player and I think he'll be able to have the kind of game that can carry the Pacers to an upset, maybe two, of the Cavaliers. But that'll be about it.
Cavaliers in 5
2
Celtics
vs. 3
Raptors
This will be a fun one, determining who ultimately gets to lose to the Cavs in the Eastern Conference Finals. Toronto returns virtually everyone while the Celtics have yet to do much of anything in the playoffs but I think they are poised for taking the kind of step the Raptors did last season.
Celtics in 7
Western Semifinals
1
Warriors
vs. 5
Jazz
Even after bringing in some cagey veterans to the mix, this Utah team is still pretty young and not especially battle-tested playoff-wise. That'll hurt them against Golden State.
Warriors in 4
2
Spurs
vs. 3
Clippers
Even as Kawhi Leonard is the best defender in the league, here is where I think they will miss the interior defense of Tim Duncan as Pau Gasol is not a great matchup against either Blake Griffin or DeAndre Jordan.
Clippers in 7
Eastern Finals
1
Cavaliers
vs. 2
Celtics
I think with how good they play defensively, and with their depth, the Celtics can steal a couple of games and make Cleveland sweat a little bit. But even then, Boston just doesn't have the horses to pull off the upset.
Cavaliers in 6
Western Finals
1
Warriors
vs. 3
Clippers
It should get chippy between these two division rivals and you know that the Clippers faithful are eager to really make a splash in the postseason. But this year won't be that year.
Warriors in 6
NBA Finals
Cavaliers
vs.
Warriors
As we all know, this is the rematch we are all waiting for and it would be quite surprising if we did not see it for a third straight year. Obviously, a core of Curry-Durant-Green-Thompson is very imposing for any team, including the Cavaliers, but I do like the Cavaliers here. Many times, these sort of superteams don't fully come together in the first season and I think that the better depth of the Cavaliers will carry them just barely across the championship finish line once again. And Kyrie Irving will be the difference here.
Cavaliers in 7