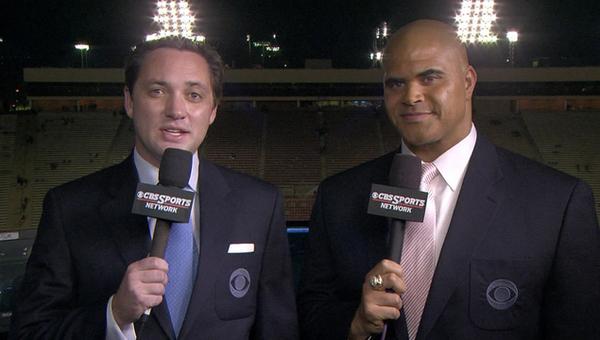 Just in case you forgot, the good folks over at CBS Sports Network have themselves a pretty solid package of college football this fall and a true college football junkie would not want to miss out. They released their announcing teams for the 2016 season so let's take a look.
Carter Blackburn, Aaron Taylor,
Jenny Dell
(Lead)
Rich Waltz, Adam Archuleta,
Cassie Gallo
Dave Ryan, Corey Chavous,
Melanie Collins
Ben Holden, Jay Feely,
John Schriffen
John Sadak, Randy Cross,
Sheehan Stanwick-Burch
Additional play-by-play announcers include Dwayne Ballen and Jason Horowitz. Additional analusts include Eric Davis and Ben Leber and other reporters are Tina Cervasio, Taylor Rooks and Jill Savage.
The acclaimed Tuesday night program Inside College Football returns and will be hosted by Adam Zucker alongside Randy Cross, Brian Jones, Rick Neuheisel and Aaron Taylor. Other contributors include hosts Dana Jacobson and Brent Stover and analysts Christian Fauria and Houston Nutt.
H/T CBS