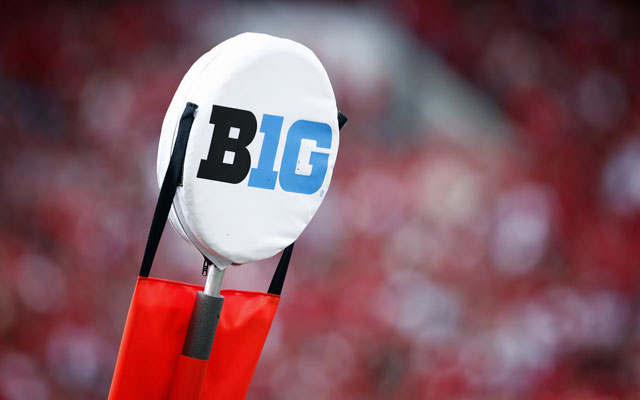 (Getty Images)
In the wake of Fox getting half of the Big Ten television rights
two months ago
, much was left to be pondered about if ESPN, the previous rightsholder, was going to have much of a slice of a pie if it had one at all. After all, much has been made about how ESPN was in the midst of some serious cost-cutting and they reportedly went in with
a lowball bid
for the package that went to Fox which led some to wonder whether ESPN was going to be willing to fork up what was needed.
Well now we know that the answer to that question is yes as
SportsBusinessDaily broke the news this morning
that the relationship between ESPN and the B1G will continue.
Money appears not to be an issue with this latest contract as ESPN will be forking out $1.14 billion over six years, a cool $190 million per. When combined with Fox's contract ($240 million a season) and also CBS's basketball deal ($10 million a season), that means that the new Big Ten deal will be worth a cool $2.64 billion over the next six years, or about $440 million a season. That is effectively a tripling from their current deal, meaning a great windfall for the 14 athletic programs in the conference.
ESPN will get about 25 football games and 50 basketball games a year, similar to Fox. However, Fox now gets priority selections over ESPN and they'll have the first pick of weeks in a season in which they get the first selection of games, as well as the Big Ten Championship every year. ESPN will still have games on ABC, ESPN, and ESPN2 and there will be a big decrease in games on ESPNU.
In the end, Fox definitely comes out on top in terms of this deal. Their priority will allow them to pick their choice of the biggest games to air either on Fox or on FS1, including Michigan-Ohio State, and it is certainly a big boost to their collegiate sports profile. But while ESPN does lose some of their advantages of being the exclusive partner with the conference, being shut out completely would have struck their college packages a big blow and it seems that ESPN president John Skipper knew this. Here's the SBD:
Soon after news of Fox's deal leaked in April, however, ESPN President John Skipper called Big Ten Commissioner Jim Delany and said he wanted to re-engage. After a flurry of phone calls and emails, Skipper and Delany reached a broad agreement on price. John Wildhack, ESPN executive vice president of programming and production, and Burke Magnus, executive vice president of programming and scheduling, shook hands on an agreement with Delany and conference lawyer John Barrett during a May 19 meeting at the conference's New York office.
And also importantly as they fight off the growing cord-cutter trend and deal with desires to cut costs from their parent company Disney, this deal shows that ESPN is still very much viable in the sports rights market and especially when their key packages are involved.
Now the sports media landscape is relatively calm for the next few years until 2021 when the television deals for the NHL, MLB and part of the NFL are up. However, the PGA Tour has an opt-out of their deal with CBS and NBC in 2018 while the UFC's deal with Fox expires that same year.