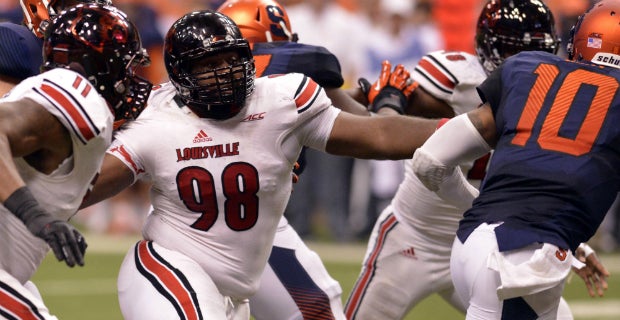 (Mark Konezny/USATSI)
If you are counting, and I know you are, is that Monday marks exactly one month to the 2016 NFL Draft in Chicago. With the clock ticking until the Titans are on the clock, how does the draft picture look right now? Here is my sixth mock draft.
1.
Titans - Laremy Tunsil
, T, Ole Miss
Considering that the Titans appear to have a franchise quarterback but nothing else, it makes sense that they would take the best player on the board. Fortunately for them, Tunsil is both that and fills a need related to their quarterback. Marcus Mariota took way too many hits during his rookie season so improving the pass protection is absolutely paramount. Tunsil has the size, strength and athleticism that you want out of a franchise left tackle.
2.
Browns - Carson Wentz
, QB, North Dakota State
As Johnny Manziel's days in Cleveland are officially over, it looks like the Browns will be in the market for a franchise quarterback...again. Fortunately for them, there are three solid quarterback prospects in this year's draft but unfortunately for them, none of them look like can't-miss guys. While you could make cases for Jared Goff here, I think that Wentz may be the top quarterback in this draft. Wentz showed at the Senior Bowl that he has the skill-set to excel but he isn't that experienced, particularly against top-tier competition.
3.
Chargers - Jalen Ramsey
, S, Florida State
San Diego's secondary was a mess this season and as it appears that Eric Weddle's time with the franchise is over, there is a big hole at the safety position. Ramsey played throughout the secondary at Florida State, and a little at linebacker, but his best position is probably safety. He has the physicality to be able to play in the box and the athleticism and coverage skills to makes plays in center field. His draft stock has only gone up after what was considered to be a pretty good performance at the Combine.
4.
Cowboys
-
Joey Bosa
, DE, Ohio State
Dallas defensive coordinator Rod Marinelli is a vaunted defensive line coach, as we all know, and the Cowboys could certainly use some help at defensive end considering that the scumbag Greg Hardy is a free agent and Randy Gregory will be suspended
for the first four games
. And even with those two in the mix last season, the team only finished 25th in sacks. If Bosa is available here, he'll be the pick. He's a terrific fit for the Marinelli scheme and his ability to stuff the run and rush the passer should make any line coach blush.
5.
Jaguars - Myles Jack
, LB, UCLA
Jacksonville showed some improvement this past season but we are still waiting for them to make that jump in the win total. One of their big problems remains their defense which was in the second half of the NFL statistically yet again, despite Gus Bradley's defensive background. Therefore, they'll likely go defense again early and Jack should provide some pop to a linebacking corps that could certainly use some. Jack is an elite talent. He has the athleticism to make plays all over the field and he has the instincts to be in the right spot at the right time.
6. Ravens - DeForest Buckner, DT/DE, Oregon
Ozzie Newsome is famous for being a shrewd personnel exec and one of the reasons why is that he is a good drafter. He is also not afraid to take the best player available regardless of need and in that case, Buckner would apply and better yet, he would help fill a need after a declining Chris Canty was cut. Buckner, who was named the top defensive lineman in the Pac-12 for 2015, should be able to contribute all over the defensive line thanks to his size, length and strength and he should fit well in a 3-4 or a 4-3 defense.
7.
49ers - Jared Goff
, QB, California
Nobody really seems to know what Chip Kelly may have in store for the quarterback position with
his new team
because while Colin Kaerpernick may seem like an intriguing fit for his offense, Kelly has
played it coy
. I think that should Goff be available at the seventh pick, the 49ers will go for the local prospect and especially so as Kaepernick's status is still up in the air. Goff's solid athleticism and mobility should help him in Kelly's offense as should his awareness and his accuracy.
8.
Eagles
(from MIA) -
Ezekiel Elliott
, RB, Ohio State
It still is a little bit crazy that the Eagles would successfully get rid of one of their more onerous contracts, that of cornerback Byron Maxwell, and move up in the draft as a result. It's safe to say that the Dolphins got
fleeced
here while the Eagles could have their opportunity to draft a replacement for Maxwell, or draft a replacement for the
also-traded
DeMarco Murray. Elliott, after a stellar Combine performance, is going to go higher than I had previously thought but with his skill-set, it makes sense.
9.
Buccaneers
-
Vernon Hargreaves III
, CB, Florida
Opposing quarterbacks completed a whopping 70% of passes and had a QB rating of 116.2 against the Bucs.Therefore, the secondary could certainly use some work, both at corner and at safety. If the Eagles do not take him at eight, Hargreaves should be ripe for the taking for Tampa Bay here. Hargreaves did have some up and down moments down the stretch of his junior season with the NFL seemingly on his mind and isn't particularly big but he does have great ball skills and the aggression you like out of your cover corners.
10.
Giants
-
Ronnie Stanley
, T, Notre Dame
Even with how atrocious the Giants were defensively a year ago, statistically one of the worst ever in fact, I do think they may be hard-pressed to pass up taking a top tackle prospect like Stanley should he be available at the tenth pick. Considering that Eli Manning is only getting older and less mobile, it is paramount that they protect him well. They did draft Ereck Flowers a year ago but he may be a better fit for the right side. Stanley fits more as a left tackle than on the right side as he isn't a mauler in the running game but he is terrific in pass protection and has the length and agility to excel on the left side.
11.
Bears - Sheldon Rankins
, DT, Louisville
Considering that they lacked much of the optimal personnel to run a 3-4, the fact that the Bears finished 14th statistically in the league may be a little impressive than one would think at first glance. Even so, look for them to add some players that better fit the scheme and especially at inside linebacker where they struggled to work with the pieces they had in that spot. Rankins excelled in a 3-4 scheme last season at Louisville and his ability to rush the passer from the interior and his versatility would come in handy for coordinator Vic Fangio.
12.
Saints - A'Shawn Robinson
, DT, Alabama
New Orleans was atrocious defensively last season, only being saved from the cellar by the Giants. The Saints finished second to last against both the run and the pass so they could use more than just a little help. The team could really use a true force in the middle of their defensive line and Robinson would fit that need very well. Robinson is a powerful run stuffer but he also has some agility to do more than just clogging running lanes.
13.
Dolphins
(from PHI) -
Jack Conklin
, T, Michigan State
The Dolphins look to be in solid shape at the tackle position but they are a mess on the inside, specifically at guard. They signed Kraig Urbik but he's not much more than a depth guy. And even with their tackles, both Brandon Albert and Jermon Bushrod are on the wrong side of 30 and Albert can struggle to stay healthy. Conklin's powerful and tenacious blocking style makes him a force in the running game and a good fit either at guard or at right tackle.
14.
Raiders
-
Shaq Lawson
, DE, Clemson
Imagine how good the Oakland pass rush would be if they had a dangerous threat opposite of Khalil Mack? Considering how good Mack was last season with 15 sacks, only finishing tied for 14th in sacks was a little disappointing. Given that Aldon Smith will be suspended for much of the season, the Raiders should look to take a pass rusher early on. Lawson plays with high energy and is a threat to get to the passer on every snap. There is a reason why he led the nation in tackles for loss.
15.
Rams - Paxton Lynch
, QB, Memphis
Nick Foles was a fiasco last season and Case Keenum is obviously not an NFL starting quarterback. Therefore
as the Rams head west to Los Angeles
, they'll need a franchise quarterback and fortunately for them, they'll have the ability to take a potential one without having to reach for one. Lynch is a bit of a project and probably wouldn't be able to start from day one but he has the skill set that you want. He has the arm to make all the throws, showed some nice accuracy at Memphis and has plus athleticism.
16.
Lions - Laquon Treadwell
, WR, Ole Miss
Calvin Johnson did decline a little bit the last couple of seasons but that's only to his lofty standards considering he still was a Pro Bowler. But now that he is retired, the Lions have a big hole to fill at wideout. They brought in Marvin Jones out of Cincinnati but at his best, he is a solid number two wideout. Treadwell may not have the high-end speed but he is a natural receiver thanks to some tremendous body control. His physicality should make him the kind of dangerous weapon in the red zone that Johnson was.
17.
Falcons
-
Darron Lee
, LB, Ohio State
Dan Quinn is a well-regarded defensive coach but I don't think he will be able to have big success with this personnel until they get some playmakers at linebacker. Brooks Reed is a solid player but beyond him, there's not a whole lot there even after bringing in Courtney Upshaw and Sean Witherspoon in free agency. Lee has only played the position for a few years but he has got the instincts and physicality to be a big time playmaker and play on all three downs.
18.
Colts
-
Taylor Decker
, T, Ohio State
Of all the things you can criticize GM Ryan Grigson for, arguably he biggest thing is that he has consistently failed to put together a quality offensive line. That's not a good thing for any franchise but for a team that has a young franchise quarterback in Andrew Luck, who has taken a lot of hits in his career thus far and had missed games last year, that's a serious concern. Decker not only has the size you want out of your left tackle but also has solid athleticism. He is very good in the run game as well.
19.
Bills - Robert Nkemdiche
, DT, Ole Miss
One of the key questions will be where Nkemdiche goes in this draft. He has the talent level to go much higher but with the very odd incident after he fell through the hotel room window a couple months back and some other character questions will likely cause his stock to slip. However, you know that somebody will take a shot on him thanks to his combination of power and agility and I could very well see Rex Ryan being that guy.
20.
Jets - Leonard Floyd
, DE, Georgia
Even with one of the more loaded defensive fronts in football, the Jets only finished 12th in sacks this past season. That goes to show how much they could use a real pass rushing force coming off the edge, the likes of which they have not had in many years it feels like. Floyd did play both inside and outside linebacker at Georgia but he seems like a much better fit to play outside. He may not be particularly big but his speed and agility can make him very tough to block off the edge.
21.
Washington - Reggie Ragland
, LB, Alabama
If Ragland slides some of draft day, I don't see him falling past Washington at 21. Washington defensively was awful against the run last season, allowing the seventh most yards per game and tied for the second highest average yards per attempt, and they got filleted by the Packers in the playoffs. Their linebackers could really use an upgrade on the inside and that's where Ragland comes in. Ragland is your prototypical 3-4 inside linebacker thansk to his excellence against the run. He may not be the most physical linebacker but he isn't terrible in coverage.
22.
Texans
-
Corey Coleman
, WR, Baylor
It appears that after many years looking for a real option at the quarterback position, the Texans hope that they have found
their man in Brock Osweiler
. It would be a surprise if he wasn't an upgrade over the crap they have put at the position the last two seasons. The supporting cast around him is getting better after they brought in Lamar Miller but they need a weapon opposite DeAndre Hopkins. The Texans seem to have a lot of interest in the Baylor product and Coleman is an intriguing deep threat thanks to his speed and hands.
23.
Vikings - Will Fuller
, WR, Notre Dame
Stefan Diggs was a revelation as rookie in 2014 but beyond him, the Vikings don't have a whole lot for young quarterback Teddy Bridgewater to work with as Mike Wallace failed to make much of a serious impact. It would be very surprising to see Laquon Treadwell fall to the 23rd pick but there is a solid crop of wideouts that fit the range. Fuller had himself a great combine and should he improve his hands, he could a dangerous deep threat.
24.
Bengals - Josh Doctson
, WR, TCU
Even with one of the top receivers in football in A.J. Green, the Bengals still have a need at the position. They only had him and Marvin Jones last season, and now Jones is a Detroit Lion. Even with this run of receivers in the draft, the Bengals should be in solid position to draft one considering that there are a number of guys, like Doctson, that should be available late in the first. Doctson may not be the speediest wideout but his size, hands and leaping ability could make him an immediate threat in the red zone.
25.
Steelers
-
Mackenzie Alexander
, CB, Clemson
The Steelers laid claim to the third worst passing defense in the NFL this past season and they could really use some reinforcements to their secondary, especially as Brandon Boykin and William Gay are free agents this offseason. The Clemson product is a terrific cover corner thanks to his man-to-man game and his athleticism. Pittsburgh had their representatives at Alexander's pro day and reportedly were impressed. Therefore, he shouldn't fall past here.
26.
Seahawks - Jason Spriggs
, T, Indiana
Seattle could certainly use more help along their offensive line and they have some big needs at the tackle position. Left tackle Russell Okung has a clear injury history, as he has never played a full regular season, and he is also a free agent. Right tackle Garry Gilliam simply isn't very good. Spriggs was voted the best offensive lineman at the Senior Bowl and his feet and athleticism could help him play either tackle spot.
27. Packers - Jarran Reed, DT, Alabama
The defense for the Packers was a disappointment last season and thus I would be surprised if they didn't go defense with this first pick, unless they're working on a thin receiving corps. After a resurgent 2014, B.J. Raji took a step backward in 2015 and given his inconsistent performance and past injury issues, it would not be surprising if he were not brought back. Reed is a stout run stuffer as he showed in Tuscaloosa and he showed some pass rush ability back at the Senior Bowl.
28.
Chiefs - Eli Apple
, CB, Ohio State
Marcus Peters was terrific as a rookie for the Chiefs last season but now as Sean Smith has signed with the Raiders, the team now has a big hole opposite him. Considering how this league has become so quarterback-driven, you need to have strong corners so look for Kansas City to draft one early. Apple has the ideal size that you want out a cornerback and he is both athletic and physical. He may fit best in a press coverage scheme.
29.
Cardinals - Kenny Clark
, DT, UCLA
Arizona had the fifth best defense statistically this season and it played a huge part in their run to the NFC Championship Game. But even then, they failed to adequately replace Darnell Dockett on the defensive line after releasing him a year ago. If Clark is available late in the first round, I think the Cardinals could pull the trigger. Clark uses his size and strength to excel in stuffing the run and he should help tie up blockers in front of the newly acquired Chandler Jones.
30.
Panthers - Kevin Dodd
, DE, Clemson
The Panthers had the sixth most sacks in the league last season but now with Charles Johnson on the decline and Jared Allen retiring, they could use somebody opposite of Kony Ealy so that their pass rush does not miss a step. Dodd did not make a big impact at Clemson until the 2015 season in which he put together 12 sacks and over 23 tackles for loss. He is probably not ready to play right away but the Panthers can afford to be patient.
31.
Broncos
-
Connor Cook
, QB, Michigan State
Now with Brock Osweiler and Peyton Manning both gone, the Super Bowl champions now have as their quarterbacks Mark Sanchez and Trevor Siemien. Considering how good the defense is and how bad Manning was last year, the team
might be able to get by with Sanchez
but I still fully expect John Elway and co. to bring in another quarterback.
They're not out of the Colin Kaepernick market
but if that doesn't pan out, them drafting Cook could be in play. Cook has has the ideal size and arm strength but he's an average athlete and he needs to work on his accuracy. Also, there are questions about his leadership skills.
For more mocks, check out
the database at Walter Football
.