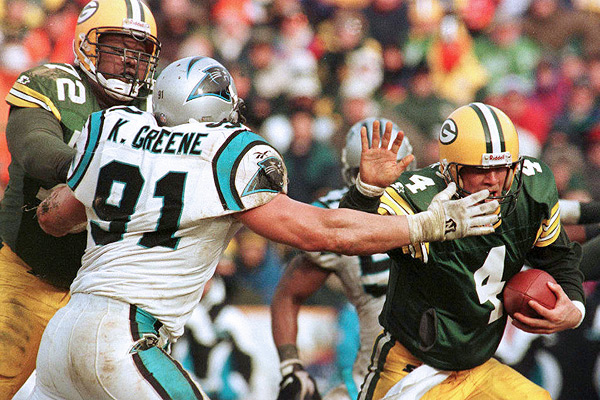 (Getty Images)
Amid all the hoopla surrounding
Super Bowl 50
, we now know the 2016 inductees to the Pro Football Hall of Fame. The eight man class, including two senior nominees, was announced last night and features two quarterbacks, a wide receiver, a tackle, a guard, a linebacker, a coach and a former owner.
In the end, is there that much you can quibble with regarding this induction class? Anybody and their ex-husband knew that
Brett Favre
was a lock for induction while
Marvin Harrison
and
Orlando Pace
both had pretty clear cases to get to Canton (and Pace should have been a first ballot guy).
Kevin Greene
had to wait too long for his induction considering he has been a finalist every year going back to 2007 but it is great to see one of the all-time great pass rushers finally get his due.
And even for the most borderline candidates that got in, you could make strong cases for each.
Eddie DeBartolo
may have been a sleaze but nobody can or should deny that he was one of the greatest owners in NFL history. After all, look at what the 49ers were before he bought them in 1977 (only four playoff appearances during their NFL history) and look at where they have been since he ceded control of the team to his sister in 2000 (only five playoff appearances). Not only did DeBartolo's teams win a lot (five Super Bowls in a 14 year span) but he was an owner that was beloved by both his players and the fans.
Tony Dungy
only won one Super Bowl as a head coach but I don't see us kicking Weeb Ewbank or John Madden out of the Hall for them only having one Super Bowl win either. And besides, the Buccaneers were not winning Super Bowl XXXVII without Dungy raising them from one of the league's laughingstocks to a consistent playoff contender (with Trent Dilfer, Shaun King and Brad Johnson as his starting quarterbacks). Yes, he had Peyton Manning leading the show with the Colts but the continued streak of excellence that the Colts had with him as a coach (no season with less than ten wins) is still damn impressive.
Ken Stabler
is somebody that I have gone back and forth regarding whether he truly was a Hall of Fame quarterback and I still think you can go either way. Yes, he had a relatively short run of greatness during his days in Oakland, threw more interceptions than touchdowns and was a mess in his stops in Houston and New Orleans. But he was also either the second or third greatest lefty quarterback ever (depending on your opinion of Boomer Esiason), was an iconic leader for some of the NFL's most iconic teams (the Raiders of the 1970's) and was a Hall of Famer caliber of quarterback at his peak.
Dick Stanfel
may be the most unknown inductee this season which makes sense considering he was a guard in the 1950's but he was hugely important for some truly great Lions teams of that decade. Also, he was both a five time Pro Bowler and All-Pro and was on the 50's All-Decade team. That sounds like a resume for Canton to me.
Looking ahead to 2017, the most notable players becoming eligible for induction are Brian Dawkins, Jason Taylor, LaDainian Tomlinson and Hines Ward. Of those guys, I think that LT will be all but a lock next season with Taylor and Dawkins due for induction down the line.