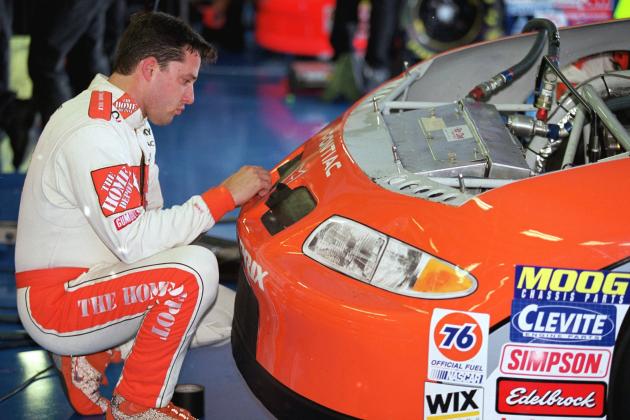 Stewart in 1999 (Getty)
On Wednesday, Tony Stewart made an announcement that had been expected for the past several days:
he is retiring from Sprint Cup Series competition after next season
and he will be replaced in the #14 Stewart-Haas Racing Chevrolet by Clint Bowyer, meaning that the 2016 Sprint Cup Series season will mark the end of a career of one of the most talented drivers and one of the more complex characters in NASCAR history.
As much as Stewart, or "Smoke" as he is affectionately referred to, has become a NASCAR legend with three Cup championships (the only driver to win under three different title sponsorships: Winston, Nextel & Sprint) and 48 wins,
he was a star in open-wheel racing
, specifically in what was then known as the Indy Racing League. He never was able to win the Indianapolis 500 but he did sit on the pole for the 1996 race and was the 1997 series champion. But the opportunity that was afforded to Stewart by NASCAR owner Joe Gibbs to run full-time in NASCAR's top series after part-time action in NASCAR's feeder series proved to be too much for him to pass up and the rest was history.
That is not to say that his time in NASCAR has not come without its ups-and-downs
as noted in a great Mike Hembree piece
. The early NASCAR successes brought a spotlight to Stewart that he may not have been ready for and thus Stewart appeared to present an early edge that would wear off a little as he grew settled in.
And his recent years have also been a struggle for Stewart, both on and off the track. Stewart has failed to finish higher than 25th in points the past three seasons with only one win as his 2013 season was shortened by a broken leg suffered in a sprint car race in Iowa while his 2014 was defined by what may have been the biggest story of his career, when his sprint car struck and killed Kevin Ward, Jr. A grand jury declined to indict Stewart about a year ago but the Ward family did open a civil suit
two months ago
which is still ongoing.
Stewart said that both his on-track struggles and the ongoing legal matter played no role in his retirement announcement,
saying instead thi
s:
It's the right thing. It's not performance-based, it's just time to do what we're doing. I still fully anticipate we're going to get things turned around. If I didn't feel that way, I wouldn't waste my time next year for anybody.
He says that next year is not going to be a farewell tour:
Next year is not a coast-and-collect year. It's just the opposite because I don't have to worry about making anybody mad next year and having to deal with it in 2017. I can rough everybody up next year if that's what it takes to accomplish my goals and sit there and just smile and laugh about it at Homestead.
And on his future role in NASCAR:
I'm not leaving the sport I love. I'm not walking away from something I'm passionate about — I'm just changing roles, which is like just moving to a different position in a company.
Stewart has long been active in various forms of racing including racing in modifieds and in sprint cars (although not since the Ward incident) and says that his retirement will allow him to expand his racing horizon beyond what Sprint Cup allows him. And as he alluded to, he will still have an active role in NASCAR through his co-ownership of Stewart-Haas Racing, the team that was formed when he bought into Haas CNC Racing, owned by Haas Automation founder Gene Haas. SHR now fields four Chevrolets in Cup action with Kurt Busch, Kevin Harvick and Danica Patrick and has a pair of championships (Stewart in 2011 and Harvick in 2014).
Stewart will be replaced in 2017 by Bowyer, whose future had been thrown up in the air with the impending shutdown of Michael Waltrip Racing. Bowyer with his big personality should make for a good fit at SHR and moving to a championship-caliber team could propel him to win his first series championship.
He is expected to race for HScott Motorsports next seaso
n
.
And just like that within two years of each other, two of the biggest stars of this era of NASCAR racing,
Jeff Gordon
and Tony Stewart, will be gone.