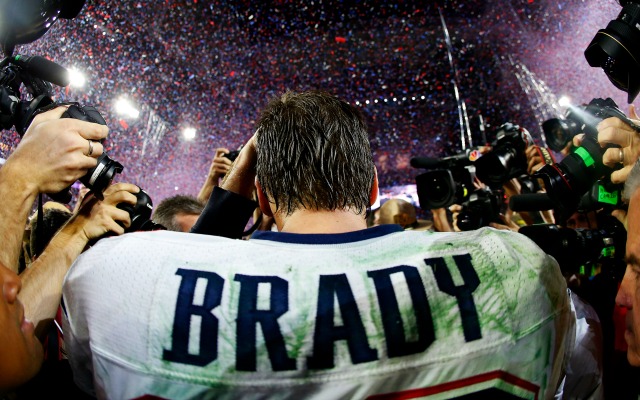 (Getty)
Well, I'd say that it's certainly been an interesting offseason to say the least, especially for one franchise in particular. Of course, that franchise just happens to be the defending Super Bowl champions. So now as we prepare for Super Bowl
L
50, will the Patriots repeat for the second time this millenium? Will the Seahawks recover from the absolute heartbreak of their loss in Super Bowl XLIX? Or will somebody claim the Lombardi Trophy?
Here are my predictions for the 2015 NFL season.
*Wild Card
East
1.
New England Patriots
(11-5)
Until only a few days ago, the Patriots were preparing to start the season without the services of their quarterback, Tom Brady, in the wake of his involvement, supposed or otherwise, in "Deflategate."
One Roger Goodell embarrassment later
and now Brady will be under center on Thursday night in Foxborough. The offense largely returns intact with the exception of running back Shane Vereen, who was a useful receiver out of the backfield for Brady, but former Saint Traveris Cadet should be able to fill the void. What will be something to watch will be a much weaker secondary in the wake of the free agent departures of Darrelle Revis, Brandon Browner and Kyle Arrington but the Pats may be able to compensate with what should be an improved pass rush with the addition of Jabaal Sheard and the expected greater contributions of last year's first round pick Dominque Easley.
The division looks better across the board but getting a full season now of Brady will be huge for them. The losses at corner will hurt but I still would be surprised to see New England fall out of first.
2.
Miami Dolphins
*
(9-7)
The Dolphins have been taking small steps forward each year under coach Joe Philbin and perhaps the biggest reason why has been the continued improvement of quarterback Ryan Tannehill. The Texas A&M product has gotten better every season and should only improve further in the second year under offensive coordinator Bill Lazor. He will have better weapons to work with with first round pick DeVante Parker, free agent pickups Greg Jennings and Jordan Cameron and the traded-for Kenny Stills joining talented sophomore Jarvis Landry. Lamar Miller in an underrated back and he should improve with greater health from the offensive line. Meanwhile on the defensive side, a quality line improved with the expensive addition of Ndamukong Suh and his run stuffing ability matched with the pass rush provided by Cameron Wake and Oliver Vernon. However, the linebacking unit still needs some work and the secondary has some holes.
Miami may be a year away from making a serious playoff run but I think they have enough talent to get a Wild Card berth.
3.
Buffalo Bills
(8-8)
Where have I seen a team coached by
Rex Ryan
with a strong running game, a loaded defense and no quarterback before? It looks like Tyrod Taylor will be the starter off the top ahead of E.J. Manuel but really none of those options are appetizing at all. Ryan helped to engineer an aggressive trade with the Eagles for running back LeSean McCoy and he will be the focal point of the Buffalo offense, but without a lot of depth the team may have to worry about overuse. Whoever the quarterback will be will have the opportunity to enjoy Sammy Watkins, Robert Woods and Percy Harvin at wideout and Charles Clay at tight end.
The defense will be a fun one to watch in Orchard Park. Stephon Gilmore may not be Darrelle Revis but he is a stud corner in his own right and Ryan will make sure to use him effectively. The defensive line should be stout with Marcell Dareus and Kyle Williams running the show while Mario Williams and Jerry Hughes will team up for a strong pass rush.
I'm not as high as others are on Buffalo but that's because that quarterback situation is an awful one. But if McCoy is cranking and the defense is clicking, they still may slide into the playoffs.
4.
New York Jets
(7-9)
It never ends for the Jets, does it? After a promising offseason in which they brought back the best cornerback in the NFL, brought in a much-needed upgrade at receiver and further bolstered the defensive line, their quarterback then acted like a jackass and then suffered a broken jaw after getting cracked by now former teammate IK Enemkpali (There's no excusing what Enemkpali did but it was a situation entirely created by Smith). Now Ryan Fitzpatrick will take the reins and he does have familiarity with new coordinator Chan Gailey but he is prone to pushing his limits and isn't a quarterback to take a team to the playoffs without a lot of help. The supporting cast will be better with the additions of wideout Brandon Marshall and running back Steven Ridley but the offensive line doesn't look that much better. The defense never was that much of an issue under former coach Rex Ryan but it should be even better this season. After all, adding a couple of excellent corners in Darrelle Revis and Antonio Cromartie certainly doesn't hurt that cause and one of the league's finest defensive lines got even better
when Leonard Williams fell to them in the draft
.
I'm a big fan of
new coach Todd Bowles
and that defense should be terrific but once again, the woes at quarterback will hinder their win total.
North
1.
Baltimore Ravens
(11-5)
Baltimore is a franchise that is getting some Super Bowl buzz and their offense looks to improve to a Super Bowl level with the addition of former Bears coach Marc Trestman as offensive coordinator. He gets the most out of his quarterback (except for Mr. Cutler) and Joe Flacco is already coming off a terrific 2014 season. Flacco's weapons should improve after drafting the talented but raw Breshad Perriman and tight end Maxx Williams to team with Owen Daniels. Justin Forsett was a revelation last season and I don't see too many reasons not to expect that to continue with Trestman utilizing his backs well and a good offensive line. The Ravens look to be good defensively this season as well, although there are some concerns at cornerback with Jimmy Smith's recovery from injury. The defensive line should be able to replace Haloti Ngata with Timmy Jernigan and they've got a strong pass rush duo in Terrell Suggs and Elvis Dumervil.
The Ravens are a good bet to represent the AFC in Super Bowl 50 in February.
2.
Pittsburgh Steelers
*
(10-6)
Ben Roethlisberger does not get enough credit for being one of the finest quarterbacks in the league and he has himself a really strong supporting cast once again. Antonio Brown is a boss at wideout and he is joined by another serious talent in Martavis Bryant as well as the always steady tight end Heath Miller. Le'Veon Bell will be suspended for the first three games of the season but once he returns, the team will benefit from one of the top running backs in the NFL. The offensive line returns intact and that's a good thing. Pittsburgh is a franchise known for defense but this year's unit once again looks like a serious question mark. The secondary is going through some transition and looks like a mess and they sorely need the pass rush to improve (hence the draft selection of Bud Dupree out of Kentucky). Lawrence Timmons and Ryan Shazier will run the show from the interior of the defense while the line, led by Cameron Hayward, could be solid.
That offense looks good enough to power Pittsburgh to the postseason but that defense may limit them once they get there.
3.
Cincinnati Bengals
(8-8)
It is the same old song and dance for the Bengals and quarterback Andy Dalton. He is surrounded by plenty of talent on both sides of the ball but his physical limits ultimately limit the team in how far they can go in the playoffs. Dalton can get the job done in the regular season but his limits get exposed come crunch time. The receiving unit has A.J. Green and not much else but the team should benefit from a strong running game led by Jeremy Hill and Gio Bernard as well as a good offensive line. A healthy Geno Atkins will be huge for Cincinnati this season as he is one of the elite defensive tackles in the NFL. The ends should improve with the return of Michael Johnson after he was a bust in Tampa last season and the secondary looks to be strong once again as well. The linebackers to remain a weakness, however.
Cincinnati certainly has the talent to get back to the postseason but as the caliber of the middle class of the conference improves, their competition may just pass them by.
4.
Cleveland Browns
(5-11)
The thing with the Browns is that if they actually had some competent play from the quarterback position, they could be a contender in this division. Mike Pettine is a good defensive coach and his unit looks to be solid once again with a strong secondary led by corners Joe Haden and Tashaun Gibson as well as free agent signing Tramon Williams and safety Donte Whitner. Plus, a bad run defense should see some improvement after the
drafting of Washington tackle Danny Shelton
and the signing of former Dolphin Randy Starks. There is also an intriguing trio of running backs in Isaiah Crowell, Terrance West and rookie Duke Johnson and the offensive line is very good. But it comes back to the quarterback position as it always does. Josh McCown was given an improbable amount of money after a dreadful season a year ago and Johnny Manziel was a fiasco last season. And a mediocre receiving corps did not get better in the offseason either.
As I said, there are some pieces to work with but unless either McCown or Manziel show some major improvement from their seasons last year, the team is going nowhere.
South
1.
Indianapolis Colts
(13-3)
The Colts will continue to benefit from a pretty weak division as well as a pretty awesome quarterback. Andrew Luck only continues to get better and he will benefit from having an improved receiving corps with former Texan Andre Johnson and first round pick Philip Dorsett joining T.Y. Hilton. He also should benefit from actually having a running game as the seemingly ageless Frank Gore was brought in to replace the incompetent Trent Richardson. The offensive line is once again the question mark of the offense but at least the team has a solid left tackle in Anthony Castonzo. But what has kept the team from being a real Super Bowl contender has been the defense but the team has made some acquisitions that should help the team on that side of the ball. Kendall Langford will help improve the 3-4 front while an aging Trent Cole can help with the pass rush. The rest of the linebacking unit leaves much to be desired and outside of Vontae Davis, the secondary is a bit of a mess.
When you have someone like Luck, you are going to be a Super Bowl contender and that trophy could potentially come this year.
2.
Houston Texans
(7-9)
Bill O'Brien is a pretty good quarterback coach and he was able to uncork nine wins out of a team that started Ryan Fitzpatrick, Case Keenum and Ryan Mallett a season ago thanks to a strong supporting cast. Having Arian Foster helps but his availability is a question mark for
an undetermined about of time
and that certainly hurts this offense. DeAndre Hopkins is the new leader of the receiving corps but beyond him, the weapons are not all that impressive or fearsome for opposing defenses. However, the offensive line, led by left tackle Duane Brown, should be solid once again. We could talk a lot about J.J. Watt and that would make sense considering he's the best defensive player in the NFL. However, he could be even better if Jadeveon Clowney stays healthy and performs to his capabilities this season. Who will also help is new nose tackle Vince Wilfork who is still a fearsome run stuffer and first round pick Kevin Johnson should help improve the coverage unit.
The pieces are here for a playoff team but the offensive questions are ultimately too much.
3.
Jacksonville Jaguars
(5-11)
Gus Bradley has helped the Jaguars improve a little bit on the field but that has not seen much improvement in terms of their record. What could make a big difference in wins is the improvement of Blake Bortles. Bortles showed a lot of growing pains as a rookie last season but he also showed some skills amid an atrocious supporting cast. That supporting cast should be better this season with the addition of expensive tight end Julius Thomas and rookie T.J. Yeldon, as well as the anticipated improvement of wideouts Marqise Lee and Allen Robinson. The offensive line, buoyed by the additions of center Stefen Wisniewski and tackle Jeremy Parnell, could be better as well but ultimately, that unit comes down to the disappointing Luke Joeckel. Hopes were high for
first round pick Dante Fowler
but he was ultimately lost for the season when he tore his ACL in preseason OTAs. That puts more pressure on the aging Chris Clemons as well as free agent signing Jared Odrick to boost the pitiful pass rush. Improved health should help the linebacking corps improve and safeties Jon Cyprien and Sergio Brown could be a promising duo.
There still is not enough talent on the roster but I do think that the team is trending upward.
4.
Tennessee Titans
(3-13)
Marcus Mariota does seem like an odd fit for Ken Whisenhunt's offensive scheme and he will have to make an adjust from Oregon's scheme to the NFL game but he has got the talent and the intangibles to be a star quarterback. What hurts him initially is a largely underwhelming supporting cast. Bishop Sankey was unimpressive in the backfield last season and the offensive line is a mess. At least Mariota has some intriguing weapons to throw to with Kendall Wright, former Falcon Harry Douglas, rookie Dorial Green-Beckham (should he stay out of trouble) and tight end Delanie Walker. The defense that Tennessee fielded a year ago was awful and it should be better, partly because it may not be able to get any worse. Recently acquired Brian Orakpo should pair with Derrick Morgan but what would really help is a resurgent Jurell Casey. The entire linebacking unit returns which could spark improvement but who really needs to improve is the secondary as it was pitiful a season ago.
My hopes are high for Mariota and his future but ultimately, the supporting cast is not in place just yet.
West
1.
Denver Broncos
(10-6)
The reports of the demise of Manning and the Broncos may be greatly exaggerated but the rest of a tough division is coming.
2.
San Diego Chargers
(9-7)
A lot of people were surprised a month ago with
a major contract extension for Philip Rivers
but it does solidify the team's future at that position. Rivers has been very good the last couple of seasons and he will benefit from what should be an improved running game after the team drafted Melvin Gordon out of Wisconsin and an improved offensive line by bringing in guard Orlando Franklin and tackle Joseph Barksdale. Keenan Allen is a terrific wideout and Antonio Gates and Ladarius Green bring a quality duo at tighe end. The defense for the Chargers looks to be largely the same from what they were a year ago but I am not so certain if that is a good thing. Eric Weddle is a tremendous player at the safety position but much of the defense's successes largely come as a result of coordinator John Pagano's schemes. The corners, Brandon Flowers and Jason Verrett, are both pretty good but the defensive line and linebackers need to show some improvement.
Rivers and the offense are good enough to power this team to the playoffs and they just may do so. A tough division, however, could hurt them in that regard.
3.
Kansas City Chiefs
(9-7)
The Chiefs have won 20 games under the 2 seasons of Andy Reid and nobody should be surprised if the Chiefs get back to the postseason. Getting full seasons from linebacker Derrick Johnson and lineman Mike DeVito would be beneficial. They will have a strong pass rush thanks to Justin Houston, who almost cracked Michael Strahan's season sack record, and Tamba Hali and Dontari Poe is a terrific nose tackle. Rookie Marcus Peters, who needs to stay out of trouble, should team with Sean Smith to form a strong cornerback duo but ultimately, the success of the defense will come down to health. The success of the offense largely has to do with Alex Smith. Smith's limitations are well documented but can he be more of a downfield threat now with Jeremy Maclin in town? Jamaal Charles is an elite back and Travis Kelce is a very good tight end.
Kansas City may not win more games than the nine they did a year ago but could that still get them to the playoffs in a tough division?
4.
Oakland Raiders
(4-12)
Jack Del Rio is the new head man in Oakland
and he has a tough battle with this franchise given how much of a consistent loser they have been. What will help in that regard is what looks like an improving set of playmakers with first round pick Amari Cooper at receiver and the surprising Latavius Murray in the backfield. However, the real reason for optimism is quarterback Derek Carr who showed a lot of promise last season, albeit with the typical rookie growing pains. Carr will benefit from an improving supporting cast and he will certainly enjoy the services of stout center Rodney Hudson, signed this offseason from Kansas City. Del Rio is a defensive guy and he has a franchise piece to work with on that side of the ball. Khalil Mack's rookie campaign was terrific and he has himself a big future ahead of him. The rest of the defense leaves something to be desired even after bringing in nose tackle Dan Williams and drafting FSU lineman Mario Edwards.
I may be a bigger fan of Del Rio than others and I do think he can be the guy to turn the ship around in Oakland. However, that won't be happening in 2015.
East
1.
Dallas Cowboys
(10-6)
The big change to the Cowboys offensively will come in the backfield as DeMarco Murray, the reigning Offensive Player of the Year, departed for the Eagles and thus the Cowboys will likely have Joseph Randle get the bulk of the carries with Darren McFadden and Lance Dunbar also in the mix. Randle has shown flashes but has been lightly used to this point. The rest of the offense will not be an issue as Tony Romo, Dez Bryant, Jason Witten and perhaps the league's finest offensive line returning intact. Meanwhile, the improvement of the defense was one of the key reasons behind the team's surprising 2014 results but it still was far from an elite unit and likely will not be one once again. The secondary took a big hit with the injury to corner Orlando Scandrick and that will put a lot of pressure on Connecticut rookie Byron Jones. It will be key for the Cowboys to keep Sean Lee on the field as he has struggled to stay healthy. It will also be important to see what domestic abuser Greg Hardy provides when he returns in Week 5 after a suspension for assaulting his former girlfriend.
It will be a tough fight for the NFC East division crown with the Eagles and even the Giants getting in the mix but I think that Dallas does have a slight edge.
2.
Philadelphia Eagles
* (10-6)
So much for the Tim Tebow era
in Philly
. Anyways, Chip Kelly quickly and aggressively
put his stamp on the Eagles this offseason
and we know have a franchise that looks pretty different than the one we saw at the end of last season. Kelly seems to get a lot out of his quarterbacks and should Sam Bradford actually be able to stay healthy (still doubtful), he could get more out of Bradford than he got in St. Louis. Or if not him, Mark Sanchez, who played surprisingly well last season, can get the job done. It will be interesting to see if DeMarco Murray has the same kind of success with the Eagles that he did last season in Dallas but again, the system has not been proven wrong yet. The receiving unit looks to fit the system well with wideouts Jordan Matthews and rookie Nelson Agholar plus tight end Zach Ertz. What really sank the Eagles last season was a truly dreadful secondary so Kelly aggressively sought to remake it. They dedicated a lot of money to cornerback Byron Maxwell and while there is a nice risk with that, he should still provide an upgrade. I really liked bringing in Kiko Alonso and he should help provide a solid boost to Philadelphia's linebackers next to Mychal Kendricks. Connor Barwin should team with Brandon Graham to create a strong pass rush while a solid defensive line returns in full.
This could be when Kelly's ideas catch up with him but I will believe it when I see it.
3.
New York Giants
(8-8)
If you believe in these kind of things, it is important to note that the Giants, judging by the trend of winning a Super Bowl once every four years going back to 2007, could be poised to win the Super Bowl this season. Or...maybe not. The defense and the defensive line was the big strength of those Super Bowl teams but this team just does not have that. Jason Pierre-Paul will be a question mark in the wake of losing a finger in a fireworks accident, Robert Ayers has to stay healthy and Damontre Moore needs to step up. They also have a hole at tackle next to Johnathan Hankins. Their linebacking unit really is not all that impressive either and they'll need second round safety Landon Collins to contribute right away. However, the Giants should be fun to watch offensively in their second season under offensive coordinator Ben McAdoo. Eli Manning may have had his best season in 2014 and I even think he can do one better this season. We all know about Odell Beckham, Jr. but one can only wonder what he could do over the course of a full season. Rashad Jennings and Andre Williams should be a fine running back duo but their offensive line could be an issue, especially if first round pick Ereck Flowers struggles to contribute at left tackle.
The Giants can be a playoff club in 2015 but their defense has to improve quickly.
4.
Washington
(4-12)
Now it is
Kirk Cousins's show
in Landover, not Robert Griffin III's. Next thing you know, it will be Colt McCoy under center (
may not be that crazy
). Ultimately until the team settles the quarterback issues, they will be going nowhere. That is not to say that there are not flaws through the rest of the offense as they are, especially on the offensive line outside of left tackle Trent Williams. Washington reached in the first round on Brandon Scherff and likely will play him out of position at right tackle instead of at guard. The receivers are good, especially if DeSean Jackson can continue to stay healthy, but it would be really helpful is if tight end Jordan Reed could actually stay healthy. On the other side, Washington's defense was really dreadful a season ago and I am not certain that we will see a much better unit this time around. Chris Culliver should be an upgrade at corner but it is still a question as to who will be opposite him. Terrance Knighton will be a big (pun intended) upgrade at the nose if he can control his weight and he can help Jason Hatcher play well too. Beyond those two and Ryan Kerrigan, there is not a huge amount to be inspired by defensively.
Once again, Washington looks like they will be cleanly in the cellar in the NFC East this upcoming season.
North
1.
Green Bay Packers
(12-4)
Losing a player the caliber of Jordy Nelson for the season is a big blow to any team, even a Super Bowl contender like the Packers. Nelson was Aaron Rodgers's partner-in-crime as the two had an almost uncanny connection. Davante Adams has the ability to replace Nelson in part on the outside but it's unrealistic to expect him to bring to the table what Nelson did. Randall Cobb does return and he will likely become the top option for Rodgers while hopes are high for tight end Richard Rodgers. Eddie Lacy will also be relied upon for a greater role in the offense and fortunately the offensive line returns intact. The Green Bay defense isn't great by any stretch but it is a unit that can get the job done. Clay Matthews will likely have to slide inside at linebacker again which isn't ideal but he was a boost there a year ago. Julius Peppers was very effective a season ago and if he can continue to do that as he gets older, that will be big. The secondary saw a number of draft selections this year including top pick Damarious Randall and he could provide an upgrade at nickel behind Casey Hayward and Sam Shields. The safeties, Morgan Burnett and Ha Ha Clinton-Dix, are solid.
Losing Nelson is a big blow but there may still be enough here to perhaps make it to Santa Clara.
2.
Minnesota Vikings
(9-7)
Minnesota could very well end up in the playoffs but it will be key for the offensive line to hold up and for Peterson to return to form.
3.
Detroit Lions
(8-8)
The biggest reason as to how the Lions improved by four wins and made the playoffs in their first season under Jim Caldwell was the defense which was absolutely terrific. However, that unit is sure to take a step back after losing tackles Ndamukong Suh and Nick Fairley. Haloti Ngata can help to fill one of the voids but it is not certain who will fill the other one. Both ends, Ziggy Ansah and Jason Jones, are solid and then a strong linebacking unit and a solid secondary return intact. With the defense likely taking a step back, a disappointing offense is going to have to take a step forward. Beyond Riley Rieff and Larry Warford, the offensive line was a mess last season and certainly has to improve. Matthew Stafford does have two excellent wideouts in Calvin Johnson and Golden Tate but he could be more dangerous if Eric Ebron rebounds from a disappointing debut at tight end and if rookie Ameer Abdullah can provide a consistent rushing option with Joique Bell.
Can Caldwell put together another solid coaching job and also get more out of his offense. If he can, a repeat playoff appearance is not out of the question.
4.
Chicago Bears
(4-12)
It is a solid step back to the Bears from the rest of the division and issues on both sides of the ball are the reason why. Jay Cutler's flaws were on full display last season and he is both going to have to get his act together and finally deliver on the promise that led the Bears to paying a nice price to acquire him from Denver six years ago. He'll still have Matt Forte behind him and Alshon Jeffery at wideout but top draft pick Kevin White is an injury question mark this season and the offensive line in front of him remains a question. Meanwhile, the defense was a fiasco last season and
new coach John Fox
and new coordinator Vic Fangio will have their work cut out for them. The transition to a 3-4 scheme is likely to continue beyond this season as there just is no the personnel on the roster yet to make such a transition work.
I liked the Fox hire a lot and he has put together a good coaching staff but this team is still likely to be a mess.
South
1.
Carolina Panthers
(9-7)
It seems like it would really suck to be Cam Newton as his supporting cast simply leaves much to be desired. His offensive line may be dreadful once again and save for tight end Greg Olsen and rookie wideout Devin Funchess, he really doesn't have anybody to throw to. What would be a big help would be Jonathan Stewart running like he did down the stretch but can anybody count on that? Newton will have to carry much of the load as he did a year ago as even when he struggled, he was able to lead this team to the playoffs. Carolina does have the benefit of having a good defense thanks to a terrific back seven. The pass rush leaves something to be desired beyond Charles Johnson as the team never really replaced Greg Hardy. It will be interesting to see how the team utilizes first round pick Shaq Thompson whose position doesn't seem defined.
Amid what looks like a feeble division once again, the Panthers seem like a decent bet to be on top once again.
2.
New Orleans Saints
(7-9)
New Orleans was a big disappointment a year ago in finishing 7-9 and the face of the franchise, Drew Brees, was also a disappointment as his performance noticeably declined. The team worked hard to boost their offensive line this offseason. Andrus Peat, the team's first round pick, should help out either at guard and tackle as will new center Max Unger, who was acquired in
the stunning Jimmy Graham trade
. Speaking of Graham, he is the kind of player that can't be replaced but it looks like you will see more of an emphasis on the running game. Mark Ingram had himself a nice 2014, Khiry Robinson is a solid back in his own right and C.J. Spiller should be able to fill the Darren Sproles role. The defense was a true mess last season and thanks to cap issues, there largely were not many major improvements made to the unit. They'll need the high profile safety combo of Jairus Byrd and Kenny Vaccaro to rebound from a disastrous 2014.
The defense has not improved just enough as to where this offense could carry the team back to the playoffs but this division is so bad that it may not matter.
3.
Atlanta Falcons
(6-10)
Depending on how quickly
new coach Dan Quinn
can get the Falcons competitive again on defense, they could very well claim this division again. I think they are a year away on that end but I do like what they did
early in the draft
in taking Vic Beasley out of Clemson and Jalen Collins out of LSU. Beasley seems like a good fit for Quinn's defense as a pass rusher off the edge and Collins could fill a hole opposite Desmond Trufant at corner. The linebackers could use some further help and I'm not a fan of the safety combination but their defensive front has some useful pieces. It has been a disappointment that Matt Ryan does not have more help than he does because he was pretty good once again last season under center. He doesn't have much in terms of options beyond Julio Jones and it remains to be seen who the bellcow running back will be.
The team still has its fair share of flaws but one cannot forget how bad this division still is.
4.
Tampa Bay Buccaneers
(5-11)
Josh McCown was a major disappointment a year ago as was the team at-large but now it will be Jameis Winston with the reins down in Tampa. Winston does have some legitimate character concerns based on some questionable actions off the field in Tallahassee but nobody can deny that he has got all the skills to be a star NFL quarterback. His strong arm should be able to take advantage of a very good receiving duo with Mike Evans and Vincent Jackson and if talented tight end Austin Seferian-Jenkins shows more than he did as a rookie, the unit could be real good. Winston also should have the benefit of what could be a better offensive line than the team had a year ago but there is a real question mark at who will be the chief running back. Lovie Smith will have his work cut out for him with this defense as the unit as a whole was pretty bad a year ago. Gerald McCoy is the sole bright spot along the defensive line, likewise for Lavonte David at linebacker and Alterraun Verner in the secondary but beyond those guys, there isn't a whole lot to work with.
Should the defense show some growth and if Winston looks comfortable under center, it is not that crazy to see Tampa Bay compete in the division. However, next year seems more likely for that.
West
1.
Seattle Seahawks
(13-3)
The Seahawks were not content to mope about the brutal loss in Super Bowl XLIX and they proved it with
the acquisition of star tight end Jimmy Graham
. Graham will give Russell Wilson the kind of fearsome option in the passing game that he simply has not had thus far in his young career and could help Wilson take another step forward. However, this still looks like it will be a running-focused offense behind
movie star
Marshawn Lynch, who was brought back on a new contract this offseason. The one thing that may prevent further improvement of the offense could be an offensive line that has a number of holes. What doesn't have a lot of holes is this world class defense led by the Legion of Boom secondary and a strong defensive front.
Pete Carroll has hit the right notes thus far with the Hawks and I don't see any reason to see any sort of decline just yet.
2.
St. Louis Rams
* (10-6)
It seems fair that any and all discussion of the Rams start with their defensive line, the finest defensive line in the NFL. It is bereft of talent thanks to a number of high draft picks with Robert Quinn, Michael Brockers, Aaron Donald, Chris Long and former Lion Nick Fairley all being first round draft picks. They will set the tone for the rest of the defense as they can make solid but unspectacular linebacker and secondary units better than they actually are. St. Louis will see a big change on offense with Nick Foles taking over at quarterback from Sam Bradford and the questions with him are if he can excel like he did at times with Chip Kelly in Philadelphia. They will likely focus on their running game and while highly regarded Todd Gurley
continues to recover from a torn ACL
suffered a year ago, the very solid Tre Mason should be good enough to hold down the fort. The receiving unit for Foles is not that impressive but I think you will see better performance from the offensive line.
I know I'm not alone in being bullish on the Rams this season but I do think this is the year they take a step forward and return to the postseason.
3.
Arizona Cardinals
(9-7)
It was really impressive to see the Cardinals win 11 games and get into the playoffs when they had Drew Stanton starting more games than Carson Palmer. Palmer continues to be a pretty solid NFL starter and his big arm is a great fit for the scheme of Bruce Arians but he simply has to stay healthy. He will benefit from a solid receiving corps led by Michael Floyd, John Brown and Larry Fitzgerald, an improving offensive line and a solid running game. However in the case of the latter, Andre Ellington also has durability issues so if not him, the running game could be in flux. Todd Bowles was able to utilize aggressive scheming to mask some of the weaknesses of the Arizona defense but now he's gotten a head coaching job so it will be interesting to see how this defense performs. What will be key would be big seasons from corner Patrick Peterson and safety Tyrann Mathieu, who is recovering from a torn ACL. However, they failed to adequately replace Antonio Cromartie opposite Peterson nor did they replace nose tackle Dan Williams.
Bruce Arians has proven that he knows how to win but a stronger division and a tough schedule could prevent another playoff appearance this season.
4.
San Francisco 49ers
(3-13)
The 49ers are poised to take a significant step backwards this season. First off, going from Jim Harbaugh
to Jim Tomsula
at head coach really is not close to being a step in the right direction and Tomsula has a lot to prove in this position. The team's talent also clearly declined with an exodus out of Santa Clara of 11 starters including a number of key contributors on defense. The defensive line now looks like a mess, the linebackers now have a lot relying on NaVorro Bowman who is recovering from a knee injury and the secondary has mostly unproven players filling in both cornerback slots. On offense, the story is not much better. Colin Kaepernick has failed to improve his mechanics to where it meets the NFL standard and he will definitely miss Harbaugh perhaps more than anyone. He does have some solid threats at receiver in Torrey Smith and Vernon Davis at tight end and I like running back Carlos Hyde a lot. That said, the offensive line could get ugly outside of left tackle Joe Staley.
Amid a strong dvision and all those key departures, it is going to be pretty hard for the Niners to avoid taking a step or two backward.
AFC Wild Card
3
Baltimore Ravens
vs.
6
Miami Dolphins
The Dolphins will have made strides in order to slide into the postseason but I don't think they have have the kind of roster to match with that of the Ravens and certainly not the experience.
Pick:
Ravens
4
Denver Broncos
vs.
5
Pittsburgh Steelers
The concerns about how well Peyton Manning can perform in the cold weather will arise here as it generally gets cold in Denver in January. However, they are the more well-rounded team of the two and their superior defense will help them continue forward.
Pick:
Broncos
NFC Wild Card
3
Dallas Cowboys
vs.
6
Philadelphia Eagles
Divisional matchups in the playoffs are always fun and considering that there is no love lost here between these two, this could be fun. What I think will be the difference in a relatively even matchup with the scheming of one Chip Kelly.
Pick:
Eagles
4
Carolina Panthers
vs.
5
St. Louis Rams
The Panthers would have the homefield advantage here but I think that may not help them this go-around like it did last year. The stout defensive front of St. Louis is a bad matchup for a bad offensive line for the Panthers and that will propel the Rams to win.
Pick:
Rams
AFC Divisional
1
Indianapolis Colts
vs.
4
Denver Broncos
The Colts are a Super Bowl contender because of Andrew Luck and because of its sound offense but I still am not sold in their defense yet. Playing indoors negates the Manning cold concerns and I like the road team here.
Pick:
Broncos
2
New England Patriots
vs.
3
Baltimore Ravens
These two engaged in a classic contest last year in the Divisional Playoffs and I would expect nothing less quite frankly. New England obviously got the better of the two last year en route to winning the Super Bowl but I think this Ravens club will have a chip on their shoulder and get their revenge.
Pick:
Ravens
NFC Divisional
1
Seattle Seahawks
vs.
6
Philadelphia Eagles
A Pete Carroll-Chip Kelly matchup is an intriguing one but beyond that, this is a bad matchup for the Eagles to have to go on the road and try to take out the defending NFC champs.
Pick:
Seahawks
2
Green Bay Packers
vs. 5
St. Louis Rams
I keep coming back to the St. Louis defensive line because it is so damn good and if they are rolling, they could cause some problems for Aaron Rodgers. But Rodgers is just so damn good at the Frozen Tundra of Lambeau Field so I don't see an upset here.
Pick:
Packers
AFC Championship
3
Baltimore Ravens
vs.
4
Denver Broncos
The last time these two faced off in the playoffs, the Ravens pulled out an iconic win in Denver en route to winning Super Bowl XLVII. We may see something similar here and playing in the Charm City certainly does not hurt the case for the Ravens.
Pick:
Ravens
NFC Championship
1
Seattle Seahawks
vs.
2
Green Bay Packers
Being without Jordy Nelson probably would sink Green Bay in a game like this in Seattle. That said, I think there will be a sizable chip on the shoulder of the Packers in the pathetic way they lost last year's NFC Championship and I think that they could pull off an upset.
Pick:
Packers
Green Bay Packers
vs.
Baltimore Ravens
Ravens 31 Packers 30