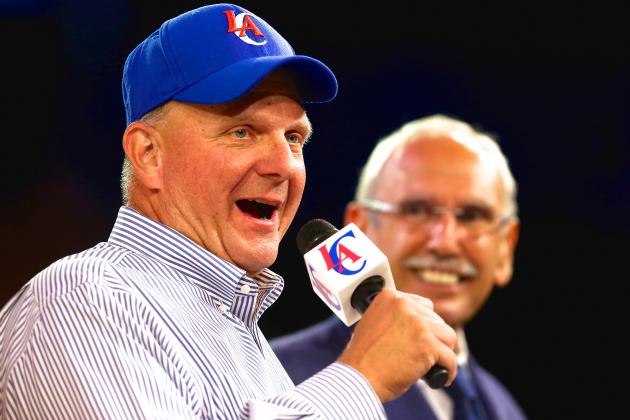 (Getty)
Since a
landmark television deal
between the New York Yankees and MSG Network in 1989, regional sports networks have become the dominant homes for local sports broadcasting rights. These rights have become exponentially more lucrative over the past decade, leading many to speculate as to whether a
bubble
could be
ready
to
burst
. It hasn't burst yet but Los Angeles Clippers owner Steve Ballmer may be poised to revolutionize the way fans watch their favorite teams.
From the New York Post
:
Steve Ballmer, the owner of the Los Angeles Clippers, has turned down a $60 million-a-year offer for local TV rights and is forging ahead with a plan to start his own over-the-top streaming network, The Post has learned.
If he follows through on the plan, Ballmer, the former CEO of Microsoft, would be the first owner of a major US sports team to deliver games direct-to-consumer via a Web-based service and not through traditional cable or satellite companies, sources said.
The idea of sports going over-the-top has been a fanciful one in over the last several tears but there really hasn't been a whole lot of development in that regard until recently.
In their massive new television rights deal
, the NBA announced that ESPN would be helming a new OTT digital network with the league holding some ownership in, although details still remain relatively scant. Also, an NFL game in October
will be streamed exclusively on the internet
(albeit in local team markets as well).
There has been talk before about teams taking television rights in-house digitally. Ted Leonsis owns the NHL's Capitals and the NBA's Wizards and
has discussed broadcasting his teams' games on his digital Monumental Network
once both teams' deals with Comcast Sportsnet expire. However, it seems that Leonsis is more focused on getting back the Caps' and the Wizards' TV deals to expire at the same time as the former's deal expires in 2017 and the latter's expires in 2021.
But the Clippers' deal with Fox Sports affiliate Prime Ticket expires at the end of next season and the Post reported that Ballmer turned down a $60 million per-season offer, a 140% increase from the current contract. They also reported that Prime Ticket's exclusive negotiating window expired in June.
There are a number of questions that have yet to be answered before we get to the point where an OTT network like the one reported here becomes viable. Such a network would not be cheap for the consumer with the Post quoting an expert saying this:
If it costs $12 per month, multiply that by 12 months in 500,000 homes, it would add up to $72 million - but then you'd have to produce the games and market the product.
$12 a month seems like a lot for a team that only plays a few times a week, and with likely multiple games on national television a month. And finding folks to fork out that kind of money in the offseason would seem to be a tough ordeal, especially in a market that is inundated with RSN's as is with the newest, and most expensive, struggling to get into homes in Time Warner Cable's SportsNet LA. All of this for the market's second most prominent NBA franchise.
Ballmer has a hard-earned reputation for being aggressive, after all, he paid $2 billion for the Clippers. However, there definitely seems to be a large amount of risk with undergoing an offering such as this. Therefore, one thinking that a threat such as this could just be a ploy to get some leverage to get more from their next television rights deal, potentially from Fox or someone else. After all, both Time Warner Cable RSN's could use more programming to justify their subscriber fees (the aforementioned SportsNet LA in particular) while the Fox RSN's would be left with only hockey should the Clippers leave.
What happens next could prove to be a model for how sports franchises broadcast their games. Or it could just be a new way for teams to leverage more money from cable networks. Anyhow, could be fun to watch.