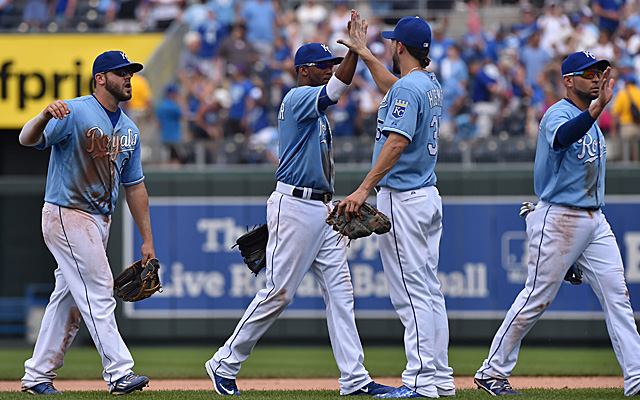 (USATSI)
Major League Baseball released on Monday night
an update
of the voting results for the American League for the 2015 All-Star Game and quite frankly, the Kansas City Royals are running away with it. In fact, they are doing so well with the voting that they seemed poised to make some history next month in Cincinnati.
The Royals currently have the top vote-getters at seven positions: catcher (Salvador Perez), first base (Eric Hosmer), third base (Mike Moustakas), shortstops (Alcides Escobar), two outfield positions (Lorenzo Cain and Alex Gordon), and at designated hitter (Kendrys Morales). Not to mention that they are also in second place for second base (Omar Infante) and in the outfield (Alex Rios). Don't believe me? See for yourself:
— MLB Communications (@MLB_PR) June 8, 2015
If these standings hold, that would be a MLB record. The record for most starters from one team is the Yankees
in the 1939 game
, but that was also held at Yankee Stadium.
Of course, there was one instance of seven players being elected to the game,
the 1957 contest
, where seven Reds were put into the National League lineup but two outfielders, Gus Bell and Wally Post, were removed from the lineup in favor of Hank Aaron and Willie Mays due to an incredible amount of ballot-stuffing from Cincinnati fans.
The Royals are the defending American League champions and have had a tremendous season to this point, sitting tied for first in the AL Central and making me
look bad
while doing it, but to have so many of their players poised to starting the All-Star Game is frankly ridiculous. You could make legitimate cases for Perez, Escobar and Cain but it is hard to justify Hosmer over Miguel Cabrera (
or maybe not
?), you certainly can't defend Moustakas over Josh Donaldson or Morales over Nelson Cruz. And Infante (
with a negative WAR
) or Rios (having only played 14 games) should be nowhere near an All-Star Game.
Of course, we are still over a month from the All-Star Game so it is likely that these numbers could change. The real question could be whether such an undeserved overwhelming showing could potentially push Major League Baseball to lessen the importance of fan voting (don't count on it).