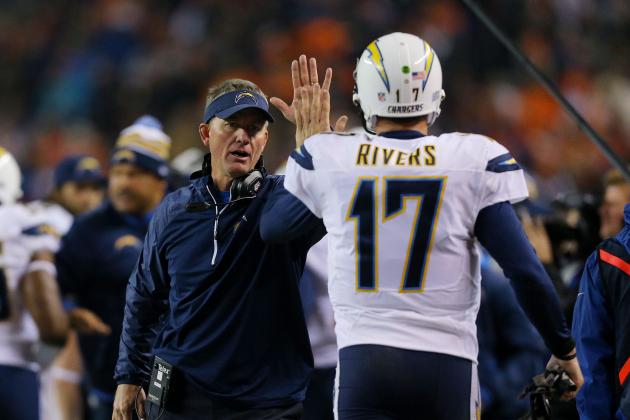 (Getty)
The 2015 NFL Draft is only one week away and there is much speculation about a potential trade featuring the San Diego Chargers and Philip Rivers. Ever since it was reported that Rivers
does not want to play in Los Angeles
as the team's future in San Diego seems murky at best and led to
his reluctance to sign a contract extension
, trade rumors have been swirling. Even Rivers' former teammate thinks that he's done in San Diego. Could they be dealing him for a high pick, say the 2nd pick and his former offensive coordinator Ken Whisenhunt in Tennessee?
Here's my latest mock.
1.
Tampa Bay Buccaneers
-
Jameis Winston
, QB, Florida State
Winston, as did Marcus Mariota, bucked the recent trend of the top quarterback prospects deciding not to throw at the Combine and he did throw and if anything, it only secured his hold on the top overall pick from before. Yes he ran a slow 40 but that is not as much a part of his game as it is for Mariota but what was important was that he reportedly interviewed well. It would be a surprise to me if the top pick in April would not be Winston at this point.
2.
Tennessee Titans
-
Marcus Mariota
, QB, Oregon
As to whether it is Tennessee taking him or somebody trading up for him, be they San Diego or somebody else, I think that Mariota is going to be the second player off the board. Mariota has some work to do in developing his pocket passing game but he has all the physical tools (size, arm, mobility) that you want out of your franchise quarterback. He does not seem like a great fit in Ken Whisenhunt's offensive scheme but I think both sides can make due.
3.
Jacksonville Jaguars
-
Dante Fowler
,
Jr
., DE/OLB, Florida
I bet that the Jaguars would love to trade down and accumulate more assets but who knows if that will happen come draft time. This pick would likely come down to Fowler and Leonard Williams but while Williams is the superior prospect, the Jaguars seem pretty set at defensive tackle, especially after signing Jared Odrick. The speedy and physical Fowler seemingly lived in opposing backfields these past two years in Gainesville and could be a fun fit in Gus Bradley's defense.
4.
Oakland Raiders
-
Leonard Williams
, DT, USC
I think
new coach Jack Del Rio
goes for his fellow Trojan in Williams right here. The Raiders are still a mess defensively, even as they have some pieces in place, and could certainly use a talent like Williams on the interior of their defensive line even after signing Dan Williams (who brings very little in terms of a pass rush. His combination of strength, quickness and motor could make him unstoppable.
5.
Washington
-
Vic Beasley
, DE/OLB, Clemson
You can never have too many pass rushers in the NFL and Washington will have to replace Brian Orakpo, who departed for Nashville. It is not certain what kind of defense new coordinator Joe Barry will run in Landover but it probably will be a scheme that will features some multiple elements and thus another pass rusher to team with Ryan Kerrigan and Trent Murphy could be in store. Beasley is not all that long but he has more than enough quickness to get off the edge and push the pocket. His stock has been on the rise of late.
6.
New York Jets
-
Shane Ray
, DE/OLB, Missouri
I have previously been mocking either Amari Cooper or Marcus Mariota to the Jets but neither seems particularly likely as the Jets
have traded for Brandon Marshall
and I don't think Mariota will fall this far at this time. Given the team's needs and the type of players available at the top of the draft, I think the Jets will further build their defense and bring in an upgrade to their pass rush. The Mizzou prospect will have to get stronger but his athleticism off the edge is tremendous.
7.
Chicago Bears
-
Kevin White
, WR, West Virginia
8.
Atlanta Falcons
-
Bud Dupree
, DE/OLB, Kentucky
new head coach of the Falcons
, look for him to bring a whole new defensive mindset to a team that has been a mess on that side of the ball. Regardless of the defensive scheme, the pass rush is going to have to improve and thus bringing in a guy like Dupree would make a ton of sense for them. The former tight end still is raw but was one of the elite pass rushers in the SEC (no small feat).
9.
New York Giants
-
Amari Cooper
, WR, Alabama
10.
St. Louis Rams
-
Brandon Scherff
, T, Iowa
11.
Minnesota Vikings
-
Trae Waynes
, CB, Michigan State
12.
Cleveland Browns
-
DeVante Parker
, WR, Louisville
13.
New Orleans Saints
-
Randy Gregory
, DE/OLB, Nebraska
14.
Miami Dolphins
-
La'el Collins
, OL, LSU
15.
San Francisco 49ers
-
Arik Armstead
, DT, Oregon
Justin Smith has been great for many years ever since he signed with the 49ers back in 2008 but he is getting up there in age and seems poised for retirement sooner rather than later. The team could use a potential successor and while they did sign Darnell Dockett this offseason, he turns 34 next month and was out all last season with a torn ACL. Armstead never put up consistent production in Eugene but he is tremendously athletic, has nice size and has a lot of upside.
New coach Jim Tomsula
should be able to coach him up.
16.
Houston Texans
-
Todd Gurley
, RB, Georgia
17.
San Diego Chargers
-
Ereck Flowers
, T, Miami (FL)
Regardless of whether Philip Rivers will be under center this upcoming season, the Chargers really needs to upgrade their pass protection. They did spend some coin to bring in Orlando Franklin to help out at guard and re-signed King Dunlap but they could improve over him on the blind side. Flowers has a lot of talent and showed flashes of it with the Hurricanes this past season. He has all the tools to be a fine left tackle and could be able to slide inside as well.
18.
Kansas City Chiefs
-
Eric Kendricks
, LB, UCLA
19.
Cleveland Browns
(from Buffalo)
-
Danny Shelton
, DT, Washington
20.
Philadelphia Eagles
-
Jaelen Strong
, WR, Arizona State
The Eagles have had
a wild offseason
thus far and they have done much to address their top needs. However with Jeremy Maclin heading to Kansas City to reunite with former coach Andy Reid, the Eagles could use a deep threat for their offense and to pair with holdovers Jordan Matthews and Riley Cooper. Strong should be good in the red zone thanks to his size and his good hands. The ASU prospect is also deceptively quick.
21.
Cincinnati Bengals
-
Malcom Brown
, DT, Texas
22.
Pittsburgh Steelers
-
Kevin Johnson
, CB, Wake Forest
23.
Detroit Lions
-
Andrus Peat
, T, Stanford
Ndamukong Suh
and Nick Fairley in free agency but after making a shrewd deal for Haloti Ngata, the need at defense tackle is not as big as it was earlier this offseason. Therefore, the Lions could look to address other needs with this selection such as their hole at right tackle. Peat is a little raw but there is no question that he has a high upside. He also has the ideal size and athleticism to excel at tackle and can turn into a very good left tackle down the line.
24.
Arizona Cardinals
-
Melvin Gordon
, RB, Wisconsin
25.
Carolina Panthers
-
D.J. Humphries
, T, Florida
Cam Newton showed off plenty of toughness this season as he took a beating at times. His offensive line did perform as a unit much better down the stretch but was an abject trainwreck early in the season. They have already signed Michael Oher but he is not that much of an upgrade. Like a number of tackles in this draft, Humphries is raw but with his athleticism and length, he looks like a good fit to be at left tackle.
26.
Baltimore Ravens
-
Breshad Perriman
, WR, UCF
While the receiving corps was improved a year ago, now with Torrey Smith getting some money from the 49ers and Steve Smith not getting younger as he is now 35 years old, the position is certainly in some flux. Look for Baltimore to address the position early come April and this UCF product could get in the mix. He has been rising on some draft boards and has a nice combination of size and speed.
27.
Dallas Cowboys
-
Marcus Peters
, CB, Washington
Rod Marinelli did a very fine job turning a defense widely expected to be awful to be a passable unit but even then, there are upgrades that are needed to be made. While Orlando Scandrick has developed nicely into a very good corner, Morris Claiborne has never developed opposite him which has left the other position to be a significant void. Peters does come with some notable character issues but he probably is the most talented cornerback in the draft.
28.
Denver Broncos
-
Cameron Erving
, OL, Florida State
The Broncos had issues with their offensive line all season long as they were mixing and matching and moving guys around deep into the season. That probably played a role in the decline in Peyton Manning down the stretch (as did an apparent weakening of his arm strength plus some reported thigh injuries). Erving can play across the offensive line as he did in Tallahassee and his athleticism should find him some burn.
29.
Indianapolis Colts
-
Landon Collins
, S, Alabama
As Bill Barnwell noted
last week, the Colts really need to find a safety to pair with Mike Adams in the back-end of their defense. Even after taking a flier on Dwight Lowery, I think they would be very happy if Collins were to fall to 29. Collins is a player that can play either safety spot. He has the size and strength to play in the box but he also has the athleticism and the coverage skills to be that center fielder downfield.
30.
Green Bay Packers
-
Jalen Collins
, CB, LSU
Green Bay has benefited from having solid cornerbacks for the past several years as they have been able to develop a number of under-the-radar prospects into quality players. One of them was Tramon Williams but he left in free agency for Cleveland. Davon House also left for Jacksonville, meaning the team could use some further depth. Collins has ideal size and he can run, which he showed amid a strong Combine performance. Plus we know that LSU has groomed some solid defensive backs in the past.
31.
New Orleans Saints
-
Benardick McKinney
, LB, Mississippi State
Although it is possible that New Orleans could package their two first rounders to move up for somebody they covet but I think that they will double-dip defensively. Their linebacking corps was a joke last year and even after parting with Curtis Lofton and trading for Dannell Ellerbe, I think that a piece like McKinney could be useful to defensive coordinator Rob Ryan. McKinney looks like a three-down player with how he can play the run and the pass with his athleticism.
32.
New England Patriots
-
Eddie Goldman
, DT, Florida
Vince Wilfork is headed to Houston and while he a shell of himself for the Super Bowl champions last year, he was still a big part of the Patriots' defense (no pun intended) and leaves a sizable hole to be replaced (pun likely intended). Goldman may never be a double-digit sack guy but he has a nice combination of strength and quickness for a big guy. He is an excellent run stuffer and had a really nice season in Tallahassee.
Check out the
WalterFootball mock draft database
for even more mocks.