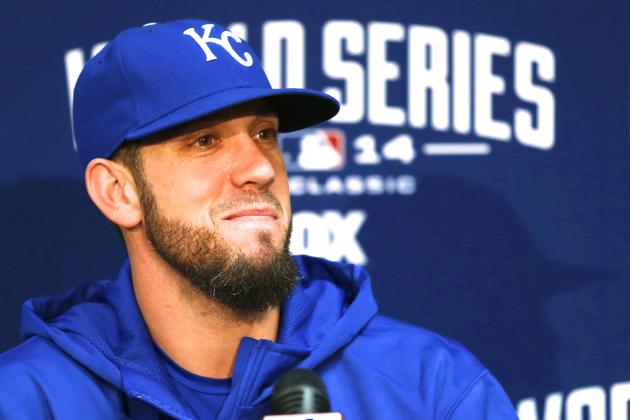 (AP)
The last big free agent in the MLB offseason has finally been signed as James Shields has signed a four-year deal with a fifth-year option in the $72-76 million range with the San Diego Padres,
as first broken by SB Nation's Chris Cotillo this morning
. It represents a homecoming of sorts for the Southern California native and it also represents that after such an aggressive offseason, the Padres are ready to win and win right now.
The Shields signing comes on the heels of new general manager A.J. Preller making a series of trades this offseason in entirely retooling their outfield after bringing in Matt Kemp from the Dodgers, Justin Upton from Atlanta, and Wil Myers from Tampa Bay, as well as adding power by trading for third baseman Willie Middlebrooks from Boston and Derek Norris from Oakland. San Diego had the worst offense in baseball last year and while playing in Petco Park would certainly hurt any offense, they also had a decided lack of punch in their lineup. Bringing in the caliber of players that they did, all with plus power, will certainly make their lineup a little more formidable.
As for Shields, he may not be a dominant hurler but he very good at preventing runs and is one of the top innings-eaters in the game. He is the kind of pitcher that can help lead a team to the playoffs, like he did in Kansas City. And we all know that pitchers really love to pitch in San Diego given the aforementioned Petco Park. He should become the ace for what already was a solid pitching rotation with Tyson Ross, Andrew Cashner and Ian Kennedy.
Of course, these long-term contracts for pitchers are always a risk given how it has become more frequents that pitchers not keep up their performance over the course of the season. Given that Shields is already 33 and has thrown a ton of innings already, he seems like legitimate candidate for some arm issues down the road.
But this is not a deal about building a winning club in a few years, it is about winning now. Preller and the organization with all the trades and now with bringing in Shields for the biggest contract in franchise history have made it clear that their expectations are now to build a playoff team right now. Of course, there are only the matter of the World Series champion San Francisco Giants and the expensive Los Angeles Dodgers to navigate around en route to the postseason but at the very least, the Friars have put themselves in the mix.