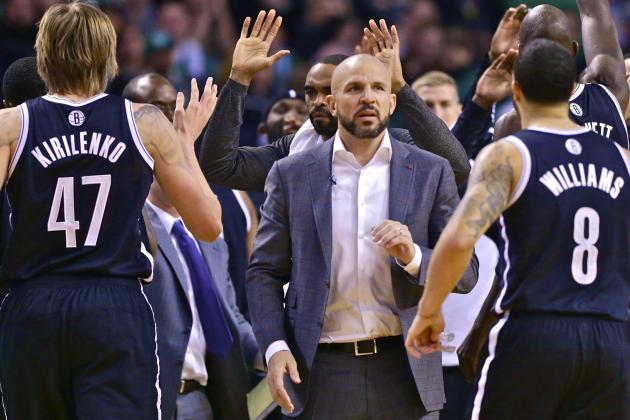 (AP)
The Jason Kidd coaching experiment in Brooklyn appears to be headed to a shocking end. Kidd, who was hired by the Nets
just one year ago
, appears to have been demanded a promotion to gain control of basketball operations on top of his coaching duties,
as first reported by the New York Post
. Then, the Milwaukee Bucks received permission from the Nets to negotiate a role for Kidd in their organization as president of basketball operations. And now, the New York Times is reporting that Kidd is
all but gone
.
So naturally the question I, and other, have is a simple one: what the hell is going on here?
The idea that Kidd was looking to acquire control of basketball operations after just one season as a coach, and being a little more than a year removed from playing, is ridiculous. Only four coaches in the NBA do it, Gregg Popovich in San Antonio, Doc Rivers with the Clippers, Flip Saunders in Minnesota, and Stan Van Gundy in Detroit. And of those four, Popovich and Saunders hired themselves as the head coach. And even as Billy King is far from being a great personnel guy by any stretch, the idea that Kidd would attempt such a power play after just one year is a comical one.
Not to mention that his first season in charge was a little rocky at times. The Nets made the big trade in
acquiring Kevin Garnett and Paul Pierce
on draft night 2013 that more or less mortgaged the future for 2014-15, so expectations were high in a soft Eastern Conference. Now while saying the season was necessarily a disappointment may not be accurate considering they did advance to the Eastern Conference Finals before losing to the conference champion Heat, after rallying to take out the Raptors in the first round, it also was not a wholesale success either.
The
Lawrence Frank situation
was ridiculous, considering how expensive of an assistant Frank was and how hard Kidd lobbied to get him on his coaching staff. The
spilling of the soda incident
was, well, interesting to say the least. And there is no question that Kidd looked overmatched as a coach as the expensive team sat at 10-21 come the start of 2014, before doing fine work as the team 34-17 the rest of the way.
It also appears that Kidd was not happy that his contract, three years and $10.5 million, was blown away this offseason by a pair of coaching neophytes in
Steve Kerr with Golden State
(five years, $25 million) and Derek Fisher with the Knicks (five years, $25 million). However, it is important to note that Kerr was involved in a bidding war to lure him from TNT between the Warriors and the Knicks, and that the Knicks were not in a position to lose Phil Jackson's second coaching option due to money in hiring Fisher. And Adrian Wojnarowski notes that a key reason for his relatively smaller contract was due to his own history,
certainly one that was checkered at times
.
So then what is Kidd's connection with the Bucks? He is close with new Milwaukee co-owner Marc Lasry, who formerly was a small stakeholder with the Nets. However, Wojnarowski reported that both Bucks GM John Hammond and coach Larry Drew, who were involved in the team's draft process
when they selected Jabari Parker
, had no idea that there were negotiations with Kidd to take over the basketball operations. As to why the Bucks would bring in a guy with no experience save for one year of coaching to run the organization is totally beyond me, especially when their current decision maker nucleus is unaware of such a move.
And for the Nets, if the Bucks want to lure Kidd away, there is no reason to stop them. If they feel the urge to have to give up compensation in the form of second round selections to bring in somebody with no personnel experience to run the ship, why should they stop them? Kidd was not a complete failure as a coach, but he also certainly was not Red Auerbach. There are some pretty good coaches looking for a job like Lionel Hollins or Mark Jackson or even George Karl that can be brought in to take over, so there is no reason for the Nets to do anything but let Kidd continue his cut-and-run scheme out of Brooklyn and into Milwaukee.
Because what's to stop him from trying this again?
UPDATE:
USA Today reported
that Kidd is indeed heading to Milwaukee as their new coach in exchange for a pair of second round picks. Larry Drew has been fired but as of right now, Kidd is only the coach without a front office title.