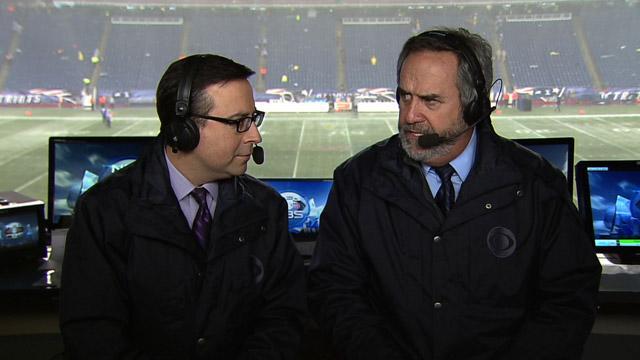 Ever since Dan Dierdorf announced he was retiring from NFL broadcasting, there was going to be some shuffling going on at the NFL on CBS. Dierdorf was last on the B team with Greg Gumbel. Considering that the B team was a coveted position as that crew traditionally got to call a Divisional Playoffs game (although CBS and Fox will alternate having a second Divisional game with NBC getting one
starting this year
), CBS was making a relatively big call.
Pretty much everyone, myself included, wanted CBS to promote the C team of Ian Eagle and Dan Fouts. Heck,
I even expected them to promote them
rather than promote an analyst to work with Gumbel and
predicted
them to do so
a few weeks ago
. Well,
guess what Richard Deitsch just reported
about an hour ago.
Eagle and Fouts have developed into perhaps my favorite NFL television broadcasting crew. It does not hurt that both have been pretty good broadcasters for many years, but also what is great about this crew is that they developed very good chemistry, which is hard to create. Also, both have very good senses of humor and seem to make games fun without turning them into clown shows. I have always enjoyed watching a game from this crew and now more of America will get to enjoy them as well.
What also makes the B crew even more desirable is that they will be getting a number of lead CBS games on Sundays. That is because the lead CBS crew of Jim Nantz and Phil Simms will be doing the new
Thursday night package
and there will be Sundays where they do not call a game, likely singleheaders.
So what will happen with Gumbel? Deitsch reported that he is moving down to the C crew with newcomer Trent Green,
who was hired as a game analyst in April
. I was thinking that Gumbel would end up working with Rich Gannon and was not sure if Green would be put on a relatively high crew, so I don't get everything right.
Wondering how I think the whole CBS commentator pairing list will shape out? Here's what I'm thinking:
Jim Nantz, Phil Simms
Ian Eagle, Dan Fouts
Greg Gumbel, Trent Green
Kevin Harlan, Rich Gannon
Bill Macatee, Solomon Wilcots
Spero Dedes, Steve Tasker
Andrew Catalon, Steve Beuerlein
Now when you take a gander at the
NFL on CBS schedule
(heck, you can even bookmark it!), there are a few weeks with eight games (weeks 3, 15 and 17 although those three are flex weeks). However, I did not include an eight crew because the networks have not had the need for the eighth crew unless in case of emergency due to the expanded Thursday night slate a couple of years back. If I had to guess an eighth CBS crew, it would be Dave Ryan and Adam Archuleta from CBS Sports Network.