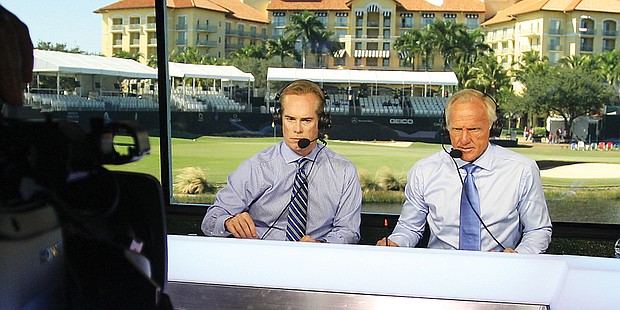 (Golfweek)
The news that the
US Open was headed to Fox Sports
come 2015 came as a shock to many, particularly as Fox has never aired golf before. One of the core questions was in regards as to who Fox would put together as their commentator crew. Now,
thanks to the great John Ourand of Sports Business Daily
, that crew will be Joe Buck and Greg Norman.
Norman was rumored to be a part of the coverage
almost as soon as the news of the Fox deal was announced
and while he has no TV experience, I think he has the chance to become a great broadcaster. The Shark has always been known to be a little outspoken, particularly in regards to Tiger Woods, and that should translate well to announcing. He should be a breath of fresh air and an enjoyable listen.
Buck makes sense considering his status as the face of Fox Sports, but he has not called golf before either although he is apparently a scratch golfer for what that's worth. While like Norman, we do not know how he will be be until we see him do it, I think Buck can be solid at golf. One of the criticisms of Buck that have stuck over the years, although it seems to have decline a little of late, but being a little dry is ideal for golf. Jim Nantz has never been considered to be that excitable of an announcer, although I think that criticism is a little unfair as it is for Buck, and he is the top golf announcer out there. I think Buck will be just fine.
The rest of the crew will probably be announced closer to the 2015 tournament at Chambers Bay, but a name to look out for is Justin Kutcher who helmed Fox Sports 1's coverage at the Masters
this past weekend
.