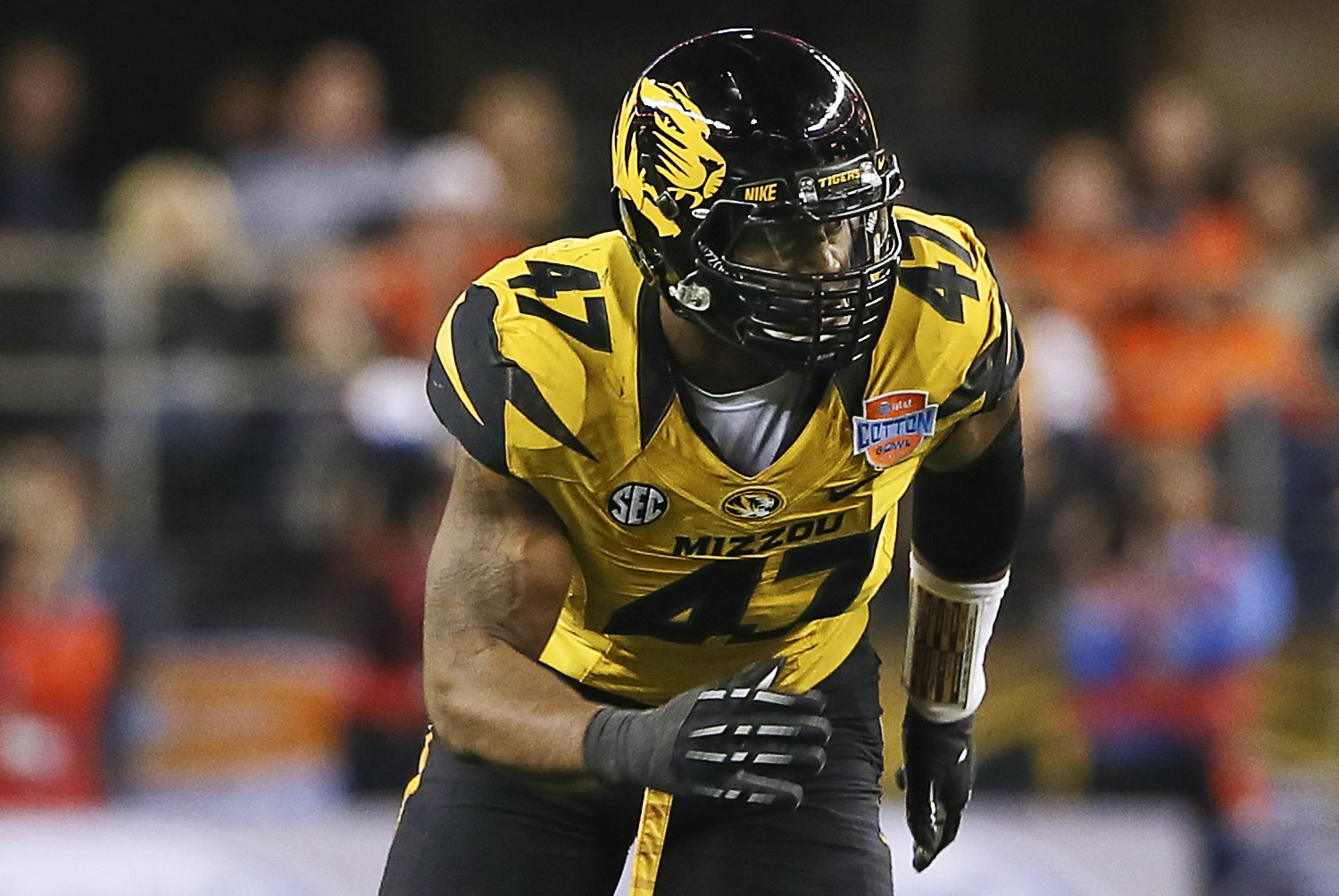 (USA Today Sports)
As you can tell, I've been going pretty hard in terms of blogging on some college hoops (it is March after all), but that does not mean I am not able to crank out a new mock, my ninth edition. Check it out below.
1.
Houston Texans - Blake Bortles, QB, UCF
A changing of the guard with the top pick, I am leaning now towards the Knights quarterback being the first overall pick this May,
and it appears that the word around the league is feeling the same
. Bortles has gained some steam as perhaps the top quarterback in his class and he has an impressive skill set as he has prototypical size with a strong arm as well as some mobility to pick up yards with his feet. Plus, Bortles does have a connection to O'Brien as he played ball for one of O'Brien's mentors, George O'Leary, at UCF. And Bortles was the only top quarterback prospect to throw at the Combine and he looked very good.
2.
St. Louis Rams (from Washington) - Greg Robinson, T, Auburn
I'm changing up the Rams at two from going with Clowney to going with Robinson, which is far from a bad pick as Robinson's stock has been soaring to where he now appears to be the top tackle on the board. His rise began with a brilliant National Championship performance, and it has continued thanks to an excellent Combine show with an excellent 40 time of 4.92 at 332 pounds as well as having the desired long arms with plenty of strength. There is no question the Rams, with Rodger Safford a free agent and Jake Long with injury issues, could use some help at tackle.
3.
Jacksonville Jaguars - Jadeveon Clowney, DE, South Carolina
Will the Jaguars pass on a quarterback to take Clowney? I think they would, even with their massive need at quarterback, and their re-signing of Chad Henne may indicate that they may not go QB early. I think that a talent like Clowney will be too much for a talent-starved Jacksonville team that could sorely use his prodigious pass rush talents, and thus go for a quarterback on Day 2. Sure, Clowney had an excellent 40-yard dash with impressive verticals and broad jump, but those questions about his effort, or lack thereof at times, persist after he bagged out of the drills with a supposed injury.
4.
Cleveland Browns
-
Sammy Watkins
,
WR
,
Clemson
For quite a while, I have had the Browns going quarterback with their first selection. However, that changes, at least for this week as it appears from some whispers around the league that Cleveland may instead wait to take a quarterback. While quarterback is still their biggest need, another option opposite Josh Gordon is as well and who would not salivate about the pairing of Gordon with a talent like Watkins. Barring a truly pitiful Combine performance, Watkins was going to be a top pick but he tore it up in Indianapolis with just about everything he did. I think he is poised to step right in and be one of the elite wideouts in the NFL sooner rather than later.
5.
Oakland Raiders
-
Jake Matthews,
T,
Texas A&M
And I also have the Raiders passing on a quarterback, and there have been rumors that they are in a bit of a similar camp as the folks up in Cleveland. Ultimately, considering how many needs they have, I think Oakland is going to work hard at moving down and acquiring multiple picks and they do have a lot of needs. And I think that the quarterback that it appears that they want, Derek Carr, is not worthy of a pick this high. They could go a lot of direction but with the concerns of Jared Veldheer hitting free agency after he was not giving the franchise tag, I think Matthews would help fill a void his departure would leave.
6.
Atlanta Falcons
-
Khalil Mack, DE/OLB, Buffalo
One of the key reasons why the Falcons took multiple steps back in 2013 was due to a mediocre pass defense and particularly an awful pass rush that finished 29th in sacks with only 32, or an average of two a game. If they do not go with one of the talented offensive tackles, which I had them going before, look for them to go with either Mack or Anthony Barr. Mack had an excellent 2013 that has helped to propel his draft stock. He is fast and strong and finds himself living in opposing backfields.
7.
Tampa Bay Buccaneers
-
Teddy Bridgewater, QB, Louisville
Would the Buccaneers be willing to draft a new quarterback in the first round just a year after Mike Glennon was drafted in the second round last year and looked decent when he played? I think if one of the top quarterbacks is available, I think they actually will pull the trigger. Lovie Smith and the new Tampa Bay front office has no allegiance to Glennon, who was not great down the stretch, and has indicated that they would be open to the possibility of taking a quarterback. Now, I do not like that Bridgewater did not do anything at the Combine, especially when he said that he was a "competitor," but he is the most pro-ready quarterback in the draft.
8.
Minnesota Vikings
-
Johnny Manziel, QB, Texas A&M
Everybody knows that the Vikings need a franchise quarterback. Christian Ponder showed he was not the answer. Josh Freeman's limited playing time was a mess, and while Matt Cassel is a decent stop-gap starter, he is not the answer to their questions, or much of any questions at that. I do not have much doubt that the Vikings would take one of the top three QB prospects and thus take Manziel in this scenario. I am not one of the skeptics of Manziel at the next level as I think he can be great in the pros. Sure, he may be a little small, his instincts are amazing, his playmaking ability is excellent and his passing skills are pretty good as well. The biggest questions with him are his maturity, but he is absolutely worth the shot in my opinion.
9.
Buffalo Bills
-
Mike Evans, WR, Texas A&M
E.J. Manuel struggled to stay healthy as a rookie but when he was on the field, he showed some flashes that he can be a good quarterback in the NFL. Therefore, the Bills should upgrade his supporting cast by bolstering his receiving corps by taking Evans, who will give a small group some much-needed size and pair with Steve Johnson to make a nice play-making duo. He had a brilliant 2013 and would give Manuel a big target in the red zone and elsewhere that would make him a valued playmaker and target.
10.
Detroit Lions
-
Justin Gilbert, CB, Oklahoma State
The Lions have a talented (and expensive) defensive line, but with a cornerback crop that was brutal at times in 2013 that was brutal at times, a talented cover corner like Dennard would be much appreciated to fully unleash the line. Dennard was awesome in 2013 and played a key role for an excellent Michigan State defense that led the Spartans to a Rose Bowl victory and he is a physical and fluid corner with the instincts to make plays on the ball even with decent speed.
11.
Tennessee Titans
-
Anthony Barr, DE/OLB, UCLA
Tennessee would be ecstatic if a talent like Barr were to fall to 11 as I project here because they could use some added juice to their disappointing pass rush. Barr is the kind of versatile pass rusher that teams love to employ these days but with his slight frame, he will have to bulk up to play defensive end so he appears to be best fitting in a 3-4 or a 4-3 outside linebacker. But with new defensive coordinator Ray Horton coming to Nashville to run a hybrid scheme, Barr fits.
12.
New York Giants
-
Taylor Lewan, T, Michigan
There were many reasons why Eli Manning was a turnover machine in 2013, and thus why the Giants were a disappointing 7-9, but one of the chief ones had to be a mediocre offensive line that seldom gave Manning time to make a good decision. Therefore, it makes plenty of sense to take a guy like Lewan who is rock solid with both pass and run blocking, and is coming off a good 2013 campaign after passing up last year's draft to stay in Ann Arbor.
13.
St. Louis Rams
-
Darqueze Dennard, CB, Michigan State
The Rams have a burgeoning defensive line with a pair of stars in Robert Quinn and Chris Long, but there is no question that for the defense to take it to another level, and for the team to make a real run at playoff contention, the secondary is going to have to improve their play. They could go corner or safety here and after a few mocks of them going safety, I think they will instead go with Dennard and work the corner spot. Dennard was awesome in 2013 and played a key role for an excellent Michigan State defense that led the Spartans to a Rose Bowl victory and he is a physical and fluid corner with the instincts to make plays on the ball even with decent speed. However he showed at the Combine that he is not a good fit in zone coverage.
14.
Chicago Bears
-
Aaron Donald, DT, Pittsburgh
You know who I think had the strongest Combine of anyone? I think it was the talented tackle from Pitt, who has seen his stock soar of late and thus all the way up to 14. Donald put together an awesome 40 time of a 4.68, had a similarly impressive 3-cone time of 7.11, and he was tremendous in the drills. He looks to be a solid bet to be a top-16 pick. The Bears are going to need help defensively and a lot of it as their unit took several steps backward in 2013. It was a key reason why the club missed the playoffs when given a good opportunity to win the NFC North as several players declined at once across the board. The defensive line could use some work and specifically at defensive tackle as Henry Melton, who was not great this past season, is a free agent.
15.
Pittsburgh Steelers
-
Ra'Shede Hageman, DT/DE, Minnesota
Pittsburgh could go in a lot of directions with this pick, but for as long as I can remember off the top of my head I have had them going with a defensive lineman as that is where they need help, particularly at the five-technique defensive end position, which is a key position in Dick LeBeau's 3-4 defense. Hageman, who was excellent last year and in 2012 for the Golden Gophers, projects to be a strong 5-technique player in the 3-4. You like how it works out like that?
16.
Dallas Cowboys
-
Timmy Jernigan, DT, Florida State
Jernigan was excellent for the national champions in Tallahassee and was very strong in the national championship, even as he got winded late in the second half. He's a versatile and disruptive presence that applies good pressure from the interior of the defensive line. He will be a good fit for the Dallas defense, and will help to fill a big void at the defensive tackle position that was a complete mess in 2013.
17.
Baltimore Ravens
-
Marqise Lee, WR, USC
You think Joe Flacco missed Anquan Boldin? I certainly did as he never found a reliable option at receiver than Torrey Smith, and his play suffered as a result. Now while taking the electric Lee would give Baltimore two deep threats when one may think they would be better off with more of a possession type, I think Ozzie Newsome will be tantalized by a Lee-Smith tandem with Flacco's big arm.
18.
New York Jets
-
Eric Ebron, TE, North Carolina
Geno Smith was a mess in his rookie season and while it is too easy to ignore him and put the blame on his awful supporting cast, his supporting cast was awful and it is a necessity if the Jets think Smith could be the guy that they upgrade the talent around him. Now while Ebron did not tear up Indianapolis as a number of folks thought he would, he has now solidified himself as the top tight end in a deep class and a guy whose stock could push him not just into the top half of the draft, but possibly into the top ten. Ebron is an incredible athlete for a tight end and was the best tight end in America in 2013. He's also not a bad blocker either.
19.
Miami Dolphins
-
Zack Martin, T/G, Notre Dame
The offensive line in Miami was truly awful and caused a lot of problems offensively for the club all season long. Plus, you factor in the Jonathan Martin-Richie Incognito situation and thus the Dolphins have to address the line right away. Therefore, Martin is a good fit. Martin had a fine season at left tackle for the Fighting Irish but he may project to be more of a guard in the NFL due to his inconsistency with dealing with speedy pass rushers as well as his excellent run blocking skills. Either way, Martin works in Miami Gardens.
20.
Arizona Cardinals
-
Dee Ford, DE/OLB, Auburn
John Abraham was surprisingly good last year rushing the passer, but he cannot be relied on considering the fact that he will be 36 by the NFL Draft. Plus, opposite him, the Cardinals have little in terms of a guy that can consistently get to the pass rusher. It certainly is one of the top needs for Arizona in the draft and thus Ford would fit well, and he fits well into their defense. Now Ford made a lot of headlines by saying that he was better than Jadeveon Clowney, he is certainly a talented edge rusher in his own right even as he is undersized.
21.
Green Bay Packers
-
HaHa Clinton-Dix, S, Alabama
It was pretty wild that the Packers, with all the problems they had with injuries, on defense and with Aaron Rodgers being out for a month, were able in the end to win the NFC North. That said, there is some work that needs to be done for the Packers to stay on top, particularly on defense. One weak spot was at safety, which was a consistent and serious issue. Dix is the kind of playmaker that teams love at free safety in that he is a good cover guy while also being able to attack in the running game as well. Sure he isn't a huge hitter, but he has the body to be one and is a good tackler.
22.
Philadelphia Eagles
-
Calvin Pryor
,
S
,
Louisville
The Eagles did the unusual strategy of having four new starters in their secondary at the start of 2013, and it failed spectacularly as they were awful against the pass all season long and it really hurt them. The safety position specifically was a disaster so look for Philadelphia to bring in a pair of safeties in order for an upgrade. Look for them to use this pick if one of the top safeties is on the board at 22. Pryor is a big safety that has a nose for the football and covers plenty of ground on the field.
23.
Kansas City Chiefs
-
Odell Beckham, WR, LSU
Alex Smith is not a great quarterback but with a talented supporting cast, he can get the job done and then some and with his decent but not great arm, it is key for him to have good weapons. But beyond Dwayne Bowe, there is not a whole lot on the cupboard for Smith to work with. Beckham has seen his stock jump of late and thanks to a brilliant Combine performance, his rise may be one that only continues upward.
24.
Cincinnati Bengals
-
Kony Ealy, DE, Missouri
The defensive line in Cincinnati is the strength of the club, but there could be a potential hole to fill at end as there may not be enough money to throw around in order to re-sign Michael Johnson, so a cheaper replacement may be found. And the value of Ealy this late in the first round would be obvious and hard to pass up. Ealy has the skills to develop into a threat off the edge in the 4-3 and he was tremendous for the Tigers this past season.
25.
San Diego Chargers
-
Louis Nix, NT, Notre Dame
Remember Jamal Williams? It seems that since he left the Chargers in 2009, they have struggled to fill his position at nose tackle, a vital position, in their 3-4 defense and their current nose guy, Cam Thomas, is also a free agent. So that gives them doubly reasons to upgrade the spot and if Nix is available this late in the first, they should hurry to the podium on draft night. Nix showed in Indianapolis very good agility and athleticism in the field, a big plus for any big tackle. He will not rack up sacks, but he can push the pocket along with plugging rushing lanes.
26.
Cleveland Browns
(from
Indianapolis
) -
Derek Carr, QB, Fresno State
Just like Oakland, the Browns may think that Derek Carr is their answer for their quarterback issues and thus why they would pass on a quarterback with their first pick. There is no question that the Browns have to find themselves a franchise quarterback, the likes of which they have not had in their current incarnation, as Brandon Weeden was a mess and Brian Hoyer is not a long-term solution. Carr's stock fell with some inconsistent performance down the stretch and in Fresno's bowl game, but I do like him as a quarterback prospect. He has a strong arm that can make all the throws but the concern with him is that he can get flustered by a strong pass rush.
27.
New Orleans Saints
-
C.J. Mosley, ILB, Alabama
Mosley would be a steal at 27 for the Saints in my opinion, as I thought he was when I had him going to Cleveland with the previous pick, as there are a number of teams that could take him in May. He is the kind of tackler and leader you love to have in the middle of your defense and he is very good at multiple aspects of the position while possessing few weakness. He is an excellent and ideal fit for the inside linebacker spot in a 3-4, like New Orleans runs. New Orleans also has issues at the inside linebacker spot. There you go.
28.
Carolina Panthers
-
Kelvin Benjamin, WR, Florida State
Cam Newton took a big step forward in 2013 but to take another step forward, he will need improved play from his receiving corps as Steve Smith struggled to stay healthy late and Brandon Lafell was decent at best. Benjamin was the big-play threat for the Seminoles this year and he has the size and speed to be a serious playmaker in the vertical passing game. He and Newton could make for one dangerous tandem in the deep passing game.
29.
New England Patriots
-
Jace Amaro, TE, Texas Tech
Remember when the Patriots had such a feared tight end duo, one that was the envy of the rest of the league? Well Rob Gronkowski continues to suffer injury issues season-in and season-out, and the Aaron Hernandez thing, well, did not work out. So if one of the top tight ends are available late in the first, New England will be on the prowl. Therefore, Amaro is a logical pick as he is a dangerous weapon in the passing game down the seems.
30.
San Francisco 49ers
-
Stephon Tuitt, DE, Notre Dame
San Francisco has a boatload of picks so they may move up if they are targeting a specific player, but if they do stay home at 30, they may find an apprentice for an aging Justin Smith with one of the better players on the board in this Notre Dame product. Tuitt is a veteran of the 3-4 and thus fits very well in Vic Fangio's defense. He is a big defensive end, although perhaps a little too big in 2013, and is a powerful player that is quicker than you think.
31.
Denver Broncos
-
Kyle Fuller, CB, Virginia Tech
In a league that has become as passing-oriented as this one has, you can never have too many cornerbacks, especially for a team that lights up the scoreboard like Denver. And they have their issues at corner as Dominique Rodgers-Cromartie is a free agent and their is a vacancy on the other side. Fuller is not particularly fast but he is quick instead for a bigger cornerback. He also had to operate on an island with the Hokies, who always seem to pump out quality defensive backs, so he can be left out one-on-one in man coverage. Fuller also had himself a solid Combine that could put him into somewhat solidly into the first round.
32.
Seattle Seahawks
-
Brandin Cooks, WR, Oregon State
It really was impressive that Russell Wilson was able to help lead the Seahawks to a Super Bowl victory considering he never got much production from the receiver position. Now Percy Harvin never being healthy during the season hurt, but the fact is that the club does not have much in terms of dangerous weapons on the perimeter. Now Cooks' stock is on the rise after a strong Combine performance as he showed plenty of speed at a 4.33 40 as well as strong hands and quality route running ability.
For even more mocks, check out the
mock draft database from Walter Football
.