As Jimmie Johnson is expected to win his sixth title in eight years in the Sprint Cup Series finale at Homestead-Miami Speedway on Sunday, the folks at Fox Sports Live were going to discuss where Johnson ranks among the top athletes of the past decade. However, Donovan McNabb nearly derailed the subject with his asinine comments saying that Johnson is "absolutely not" an athlete in my opinion. Let's go to the videotape.
Major props to host Charissa Thompson for calling out McNabb for the absurdity in his argument. So he would rank Johnson third among the best athletes of the last decade but he would not consider him an athlete? And then when pressed on whether he considers NASCAR to be a sport, which judging by his point that Johnson is "not athletic" would lead one to believe that he doesn't consider it to be a sport, he demurs and raises no objection when it is referred to as a sport later in the segment. And kudos to Andy Roddick for saying that it's "disrespectful" to say that he is not an athlete.
As an avid NASCAR fan, I always find it disappointing and frustrating when people try to dismiss NASCAR as not a sport by saying it is just guys driving a car in a circle for hours. I mean, I would like to see these people, and McNabb, to drive a 3,300 pound stock car at speeds upwards of 180 miles-per-hour inches away from the competition. I mean, I have friends that can barely drive on the Garden State Parkway or down the road to 7-Eleven. Racing, whether it's stock car or open wheel and so on, takes an incredible amount of skill, talent and precision so maybe McNabb should read up on that. Heck, there's even a graphic for it as tweeted by
@TheStrengthGuys
: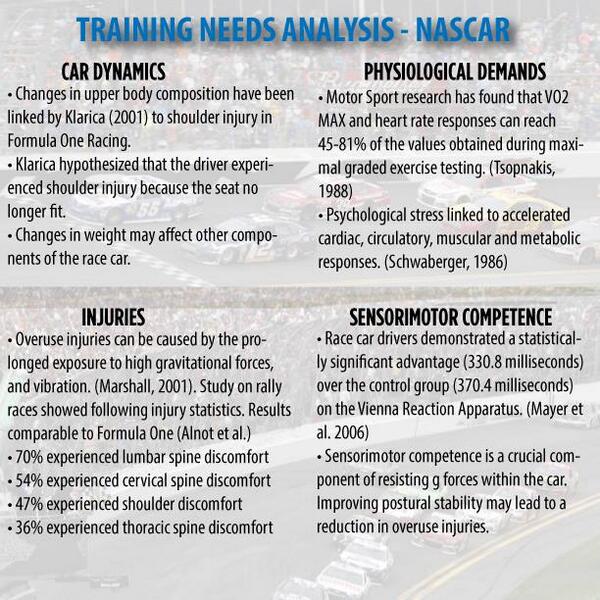 And thus I was made proud that McNabb
was crucified on Twitter
for his comments, and you even had
#PeopleWhoAreMoreOfAnAthleteThanDonovanMcNabb
trending #1 for a stretch
. After all, a number of NASCAR drivers are known as being incredibly fit, such as Carl Edwards and Mark Martin. Not to mention Johnson himself
as he runs 30-40 miles a week, is training for the Boston Marathon as well as a potential Ironman Triathlon
, and probably could outrun McNabb. And here are some of the better NASCAR drivers responding on Twitter to McNabb's idiocy.
The debate continues... Everyone is entitled to an opinion. #DriversAreAthletes
— Jimmie Johnson (@JimmieJohnson) November 16, 2013
Let's invite him and see. RT @LewisFranck: @markmartin I'd bet you'd crush @DonovanJMcNabb in the gym.
— Mark Martin (@markmartin) November 16, 2013
Wow @donovanjmcnabb really? Got to b an idiot. I'd like to see him keep up with @JimmieJohnson in a workout. And drive our cars for 500miles
— Ricky Stenhouse Jr. (@StenhouseJr) November 16, 2013
20+ yr debate. @NASCAR driver athlete? Never met a "athlete" who actually drove a racecar that doubted it. Care to take a ride Donovan?
— Jeff Gordon (@JeffGordonWeb) November 16, 2013
I understand why people watch and it doesn't look athletic. The only way to prove it is to put people in 'real' cars and let them learn
— Jeff Burton (@JeffBurton) November 16, 2013
We need a cup owner to provide a current car, go to Bristol,put McNabb in for 500 laps by himself. Then ask if drivers are athletes #educate
— Jeff Burton (@JeffBurton) November 16, 2013
. @donovanjmcnabb I really think you should watch this before you try to talk about @nascar driver's athleticism. http://t.co/ApfbChOmXZ
— James Buescher (@JamesBuescher) November 16, 2013
And while Kevin Harvick did not chime in, his wife certainly did.
Hearing people "discuss" our sport who have no freakin clue what they're talking about is awesome... @donovanjmcnabb @FOXSports1
— DeLana Harvick (@DeLanaHarvick) November 16, 2013
Not to mention this is
not the first time
McNabb has shown his lack of knowledge of NASCAR so I think the guy really has to stop making an ass out of himself by actually start to know what he is talking about.
P.S. Kudos to whoever made this: