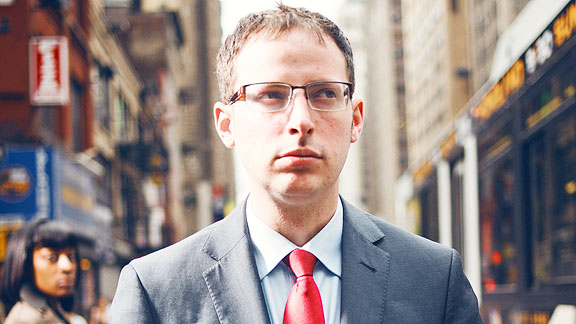 Not even a week after pulling a surprise and
bringing Keith Olbermann back
to the "Worldwide Leader," ESPN made an even more shocking hire for with the announcement that they had hired Nate Silver. He of course is the guy that dove deep into the numbers and thus correctly predict the winner of every state in the 2012 Presidential Election, but he made his bones in developing PECOTA, a form of sabermetrics used to predict performance for MLB players, as well as writing for Baseball Prospectus. Besides serving as a part-time panelist on Olbermann's ESPN2 program, he will move his blog, FiveThirtyEight, to ESPN and will be run independently similarly to Grantland, and will also contribute to ABC News during election years.
Without a doubt was this a major coup for ESPN, and I have reason to believe that this may be ESPN's biggest hire in years.
Now I do realize that I may be diving into some
Bill Walton-style
hyperbole, but I do stand by my premise that this is a big hire as it may represent a shift in ESPN's on-air style as to how topics are discussed.
If one watches ESPN during the day, he or she could tell you that ESPN does do a fair amount of statistical analysis on-air, even with all the debate crap. That was even alluded to by folks from Fox Sports who, in promoting their soon-to-debut network Fox Sports 1, say that sports fans have grown "tired" of ESPN's "stat-heavy approach,"
according to Bloomberg Businessweek
. This is also seen in ESPN the Magazine and I am sure the seven people that read it can attest to it as well. But that approach only goes so far as the network is now being defined by the tagline "Embrace Debate," with most famously being on First Take as fake, generated point-counterpoint debate. Particularly relevant is what happened with Numbers Never Lie, which had an intriguing premise of actually focusing on statistics and trends before turning into yet another debate show. That remains a bad blown opportunity, similarly to Dan Le Batard is Highly Questionable, but that is a story for another day.
Enter Silver. Silver, who will be all over ESPN and ABC News properties focusing on more than just sports and politics, is not simply just a pencil-pusher as he likes to mix it up as folks like
Joe Scarborough
and
Politico
found out the old-fashioned way. Plus, there is always going to be pushback against advanced statistics because people do not like to move away from tradition, similar as to why people still sneeze in their hands.
Now ESPN is devoting significant resources and avenues to exposure (TV, radio, online, print) to someone who uses advanced statistics and sabermetrics to bring a non-traditional perspective to sports, politics and much more. Someone that just does not go out and say outrageous things for the sake of saying outrageous things like many on ESPN's airwaves do. And this hopefully will be indicative of an even greater movement by the network to dump the hacks and bring in more folks that utilize deeper analysis.
Of course, there is certainly that chance that ESPN will have Silver engage in tired debates with analyst who preaches against using numbers and next-level statistical analysis. But for the sake of America, I am giving ESPN the benefit of the doubt here, perhaps for one of the few times ever.