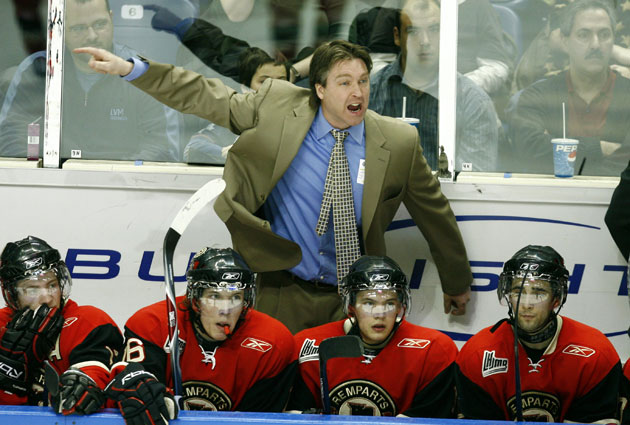 Patrick Roy
This NHL offseason in terms of the coaching carousel has seemed to be par for the course. There were a decent number of coaching vacancies, and we saw some familiar names find work once again. Here are my grades for each of the hires.
Buffalo Sabres
-
Ron Rolston
(interim coach, Buffalo)
Rolston became the interim coach of the Sabres in late February after the firing of Lindy Ruff (more on him later) and he did a pretty solid job to close out the year, finishing 15-11-5 for a club that was looking terrible when he took over and put them onto the playoff bubble. Considering the club is about to move forward with a rebuilding process, having a coach with a reputation of working with younger players. This hire will not excite the fans, but it could've been worse.
Grade: B
Colorado Avalanche
-
Patrick Roy
(head coach, Quebec Ramparts)
If you want to spruce up excitement in a downtrodden club, hire a legend. And while Roy does not have any NHL coaching experience, he has spent eight years running the Ramparts, a club he partly owns, in the QMJHL and has found a large amount of success. Roy should immediately drum up interest in the club with his fiery personality, and he just may be the guy that brings the Avs back to contention.
Grade: A
Dallas Stars
-
Lindy Ruff
(head coach, Buffalo)
Ironic how Ruff is hired by the club that so controversially defeated his former club up in Buffalo in the 1999 Stanley Cup Finals. Whoever thought that it was a good call to fire Dave Tippett four years ago deserves a flogging as the Stars have just been awful since, and they have now missed the playoffs five straight years, dating back to the Tippett tenure. While Ruff is not a particularly sexy hire, he is a pretty good coach that has a strong track record that should help Dallas get back into the playoff mix out west.
Grade: B+
Edmonton Oilers
-
Dallas Eakins
(head coach, Toronto Marlies)
Eakins was one of the hotter coaching prospects on the market this offseason and thus it was a big coup that Edmonton was able to lure him in. Eakins is a perfect fit for this young Oilers team that is on the cusp of breaking through many feel as he has a great record of coaching and developing young talent as coach of the Marlies. His aggressive style should also fit the talented wings that the club features very well as well.
Grade: A
New York Rangers
-
Alain Vigneault
(head coach, Vancouver)
The one potential downside I could see to this hire is that Vigneault has a reputation that is not unlike that of his new club in that they excel in the regular season only to fall short in the playoffs. That said, Vigneault should unleash the wings of the Rangers that were too often shackled down by John Tortorella's coaching style, putting too much pressure on Henrik Lundqvist and underperforming offensively to the talent. He is an offensive coach, which should make the Rangers more fun to watch.
Grade: A-
Vancouver Canucks
-
John Tortorella
(head coach, Rangers)
It seems like the Canucks and the Blueshirts had themselves a little bit of a coaching trade, and it is a move that makes sense for both clubs. We all know Tortorella's reputation as being gruff and a little overbearing, particularly with how much his teams focus on defense, but the Canucks had gotten soft after losing to Boston in the Cup finals a couple of years back and Tortorella immediately gives them some more toughness. As long as he does not stifle the offensive talent too much like he did late in the New York tenure, a legitimate concern, and if he doesn't find trouble with Roberto Luongo, he could be pretty successful. However, there is a chance that this backfires big time.
Grade: B