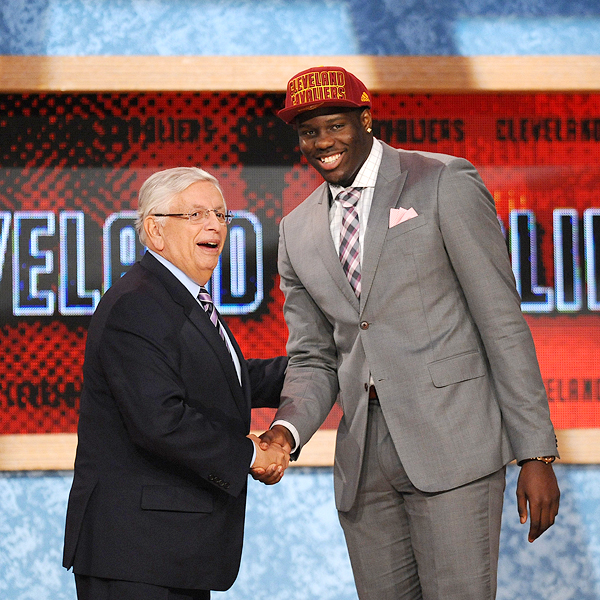 Tell me you saw Anthony Bennett going with the first selection. Since you didn't, we'll move on from there. the 2013 NBA Draft was certainly a wild one. How did every team shake out? Here are my team-by-team grades.
Pick Grades
Atlanta Hawks
You never would have guessed that Danny Ferry was a descendant of the San Antonio front office as he made his first two picks this year international prospects with high ceilings.
Lucas Nogueira
has an excellent afro and is supremely athletic, but he needs to grow into his body and show more polish offensively.
Dennis Schroeder
has seen more than one comparison to Rajon Rondo and could be important insurance should Jeff Teague depart. Of course, neither is likely to be a big contributor in 2013-14, which could leave them thin if they fail to land any big free agents. I am a Patriot League guy and a gritty rebounder with a solid shot makes
Mike Muscala
a solid asset for any frontcourt.
Grade: B+
Boston Celtics
Yeah, Boston made a little trade with the Nets that drastically changed their standing in the NBA. In the meantime, I thought they had a fine draft that brought in some drastically different big guys.
Kelly Olynyk
was sought to be a good fit for a Danny Ainge club and while he will never be on the All-Defense team, his offensive excellence makes him a major weapon. I also think that
Colton Iverson
will stick, you can never have too much rebounders on your club.
Grade: B+
Brooklyn Nets
Obiously, Brooklyn's night was defined by the
Kevin Garnett-Paul Pierce trade with the Celtics
, but they did make a selection late in the first round and I did not like it as much as I liked the Boston trade. As I have said before, I am not a
Mason Plumlee
fan at all and I do not think his game will translate well to the pros. He does fill a need for frontcourt depth but I've thought that he was an overrated prospect all along.
Grade: D+
Charlotte Bobcats
Listen, do not get me started on the
Cody Zeller
selection. Yes, I understand that new coach Steve Clifford is said to be an excellent big man coach, but that still does not explain why they passed on the two clearly better center prospects in Nerlens Noel or Alex Len, or even address their putrid wing action with Ben McLemore. Zeller is not a terrible prospect, but certainly was not worth the 4th selection considering who was available.
Grade: F
Chicago Bulls
A very productive draft for a club that needed to fill out its roster after being ravaged by injuries. I will admit, 20 is probably a little too early for
Tony Snell
, but he is a guy that I like a lot and I think that his perimeter shooting and his skill and talent to become a strong defender fit in well for the Bulls.
Erik Murphy
in the second round also made sense because he gives them some more perimeter shooting and some from the frontcourt, which they don't have.
Grade: A-
Cleveland Cavaliers
As I have said before about the first overall selection, just because it was very unexpected does not mean it was a bad pick. In fact, I really liked the
Anthony Bennett
selection because even if he is a tweener forward, he gives them some badly needed offense in their frontcourt and could be the most talented guy in the draft.
Sergey Karasev
was another fine selection at 19 as he should fill their hole at small forward with a very intriguing offensive game.
Carrick Felix
is not somebody to write home about.
Grade: A
Dallas Mavericks
The team was wise to move down a little bit to fill their point guard hole by taking
Shane Larkin
, whose size will limit him somewhat at the next level but he has plenty of athleticism and plenty of talent to make it as a starting NBA point guard.
Ricky Ledo
was an immaculate steal in the second as he was one credit shy of likely being a lottery pick before only being a partial qualifer and thus missing his only season at Providence. He has plenty of talent and could be starting caliber once he gets experience.
Grade: A-
Denver Nuggets
Denver did not like what they saw so they all but sold the 27th selection to Utah. They took scoring guard
Erick Green
early in round two and he should give them a combo guard that can give them plenty of offense off the bench.
Joffrey Louvergne
is likely another international prospect that will never see any burn in the league, but we know the name of the game here.
Grade: C+
Detroit Pistons
I thought that Detroit was going to move Brandon Knight to the two and draft a true point guard, and they had the opportunity to take the local hero in Trey Burke but they instead decided to keep Knight at the point by taking talented shooting guard
Kentavious Caldwell-Pope
. Meanwhile,
Tony Mitchell
was some grand larceny in the second round and if his head is on straight, he can be a really good forward in this league.
Grade: B
Golden State Warriors
Golden State had an interesting night as they traded up into the first round to 26 but then traded down to 30, which was unusual to see considering they could have just traded into the top of the second and get the guy they took in guard
Nemanja Nedovic
. Nedovic is a big point that has some clear physical tools to work with and he makes sense to take a flier on considering that the Warriors are a younger club, but he is still a mystery to some.
Grade: C
Houston Rockets
I do wonder with the Rockets how they were unable to find a market for Thomas Robinson on draft night, but I think they should be able to find something this summer. That said, Houston had a fine draft, taking Isaiah Canaan early in the second. He gives them a talented point off the pine that can fill up the scoreboard with his shooting, particularly from the perimeter.
Grade: A-
Indiana Pacers
I am not going to lie, the
Solomon Hill
selection was a bad one for a multiple of reasons. First, there were better prospects on the board if they were going for help on the wing. Second, they could have moved down and still have gotten him, even in the second round. Third, Hill is not that athletic and does not stand out as a prospect really in any way.
Grade: D
Los Angeles Clippers
So many teams just get weird on draft night. They forget their needs, load up on positions, way overreach on scrubs because you have that one scout who says "I swear, I thought I was watching George Gervin" and everything goes in the toilet. The Clippers used to be one of those clubs but now, they keep their cool and take a good player that fills a big need for perimeter shooting in
Reggie Bullock
.
Grade: A
Los Angeles Lakers
Given the fact that they only had one draft pick in the mid-to-late portion of the 2nd round, all of the flaws with the Lakers were not going to get addressed but they still made a sound selection of Duke big
Ryan Kelly
, as his perimeter shooting should fit well in Mike D'Antoni's offensive system. Of course, he isn't athletic, but if he could be a Troy Murphy-type, what's wrong with that?
Grade: B-
Memphis Grizzlies
Now hear this, the Grizzlies quite possibly may have made my favorite pick in the draft with their selection of
Jamaal Franklin
at 41. I still cannot comprehend how a guy that does everything, outside of shooting, very well and is extremely athletic falls that far, but now he fits in perfectly to a club that could see Tony Allen leave, and there are similarities between the two. With
Janis Timma
, I would be surprised if he ever wore an NBA uniform.
Grade: A
Miami Heat
You know, I think the Heat were going to be in good shape regardless of what they did on Thursday night so therefore their selection of guard
James Ennis
has me neither high nor low. I would have rather seen them take a point guard or a center as both are weak spots for the club but none of that will change anything, so it
is all good.
Grade: C
Milwaukee Bucks
The "Greek Freak' Giannis Adetokunbo could turn out to have the highest ceiling in this draft. He also is extraordinarily raw, too raw for the D-League, and as Bill Simmons said, he played against an "
8th grade CYO team
." I also think he was taken too early, and I don't see the need there at the three when the club has a lot in flux in the backcourt. I did then like the
Nate Wolters
selection as he could provide key insurance at the point and bring some shooting.
Grade: C
Minnesota Timberwolves
Listen, we all know the deal with
Shabazz Muhammad
to the point that I do not want to rehash it, but he was a fine value at 14 and fills a big need for perimeter scoring. We will worry about when he gets dejected when Kevin Love gets the last shot when that happens. I also really liked the
Gorgui Dieng
selection and he will provide some important depth down low.
Lorenzo Brown
was a solid value at 52 but do you really want a point who can't shoot backing up a point who can't shoot?
Bojan Dubljevic
likely will never see an NBA floor.
Grade: B
New Orleans Pelicans
You know, I wanted the Nerlens Noel-Anthony Davis pairing in New Orleans so bad and we were SO close, and yet it was not to be as Noel was traded along with the Hornets' first rounder next year to Philadelphia for Jrue Holiday. I love Jrue Holiday, after all he is already an All-Star at 23, and I think he makes the Hornets better without a doubt, but I'm not sold that he can fit that well next to Eric Gordon. Plus, it was an expensive price to pay in the best player of this draft and a likely lottery pick in a loaded draft next year. I think
Pierre Jackson
is underrated, but I don't see how he fits in a backcourt with Holiday, Gordon, Greivis Vasquez, Brian Roberts and last year's first-rounder Austin Rivers.
New York Knicks
Knicks fans loved this selection but they would go nuts for any big name, like if Glen Rice, Jr. had been their selection. Anyways,
Tim Hardaway
,
Jr
. was a pretty solid selection at 24. J.R. Smith is not going to have a season like he did this past year, and he may not even be on the team next year. Hardaway is a more well-rounded player than Smith is as he provides solid defense and has a fine offensive game, even as his jumper is pretty streaky.
Grade: B+
Oklahoma City Thunder
The Thunder are a club built to win now; they do not need to have two first round picks and that was why they were trying to move up int he draft. For a club like that, it makes sense to roll the dice on projects like
Steven Adams
, who may be extremely raw, has just about all the physical tools you want if you are willing to develop him. I thought that
Andre Roberson
was a reach at 26 and I was confident that he would have been available at 32. He doesn't have a position nor any key traits of note besides solid defensive work.
Alex Abrines
could be a keeper off the pine and
Grant Jarrett
was also a fine pick.
Grade: B
Orlando Magic
While some have been a little critical of the Magic passing on Ben McLemore to take
Victor Oladipo
, and McLemore probably has a higher ceiling, I still think it was a good pick nonetheless. You want guys like Oladipo on your basketball team, guys that do not need the basketball in his hands to make a difference, plays tremendous defense and is a hard worker and a good teammate. If Aaron Afflalo stays in town, that is a potent combination at the two. I don't see second-round pick
Romero Osby
making the club.
Grade: B+
Philadelphia 76ers
Initially I was not feeling what the Sixers did in this draft but the more I thought about it, the more I like it. Yes, it always is tough to deal a young All-Star point guard like Jrue Holiday but given the team is not going anywhere next season, getting in return
Nerlens Noel
, an excellent value at the sixth selection, as well as a likely lottery pick in a loaded draft next year, is a good haul. Yes, Noel and
Michael Carter-Williams
need a lot of work on their offense games, but Carter-Williams's distribution skills may have been the best in this draft.
Arsalan Kazemi
will be a back-bencher at best.
Grade: B+
Phoenix Suns
Considering how bare their roster is, the Suns took some chances with their two first round selections. I was not as high on
Alex Len
as most but his skill-set makes folks drool and his selection allows the Suns to put Marcin Gortat on the market, who should find a pretty return. I thought that 30 was a little early for
Archie Goodwin
(I would have taken Ricky Ledo in all honesty) but considering he was thought to be a lottery talent at one point, it is a worthy risk.
Alex Oriakhi
should not have been drafted.
Grade: B
Portland Trail Blazers
Portland had an awful reserve crop this past year and thus they had to address it in a big way and that they did.
C.J. McCollum
fits the club really well and considering his potent offensive game, as well as the fact that he projects to be a combo guard at the next level, he is an ideal sixth man right off the bat.
Allen Crabbe
will provide some pop from the perimeter and
Jeff Withey
will be a key reserve in the frontcourt.
Mark Todorovic
could be worth developing as a stash guy.
Grade: A-
Sacramento Kings
The wild and crazy opening of the NBA Draft must have felt like Christmas for the Kings, who may be a competant organization once again, as they were able to take
Ben McLemore
with the seventh selection. I can't see why a guy like McLemore fell like he did, yes he has admitted that he can be a little passive on the court, but he also has the ability to be an excellent shooting guard at the next level. I also like
Ray McCallum
where they got him but I just do not see him fitting with the glob they have in the backcourt.
Grade: B+
San Antonio Spurs
Yeah, we probably should never doubt the Spurs on international prospects and thus I would say the prospects for French forward
Livio Jean-Charles
are pretty good. Coming into the focus of scouts after dominating the Nike Hoops Summit, Jean-Charles has the potential once he fills out to be a two-forward that can play both forward spots.
DeShaun Thomas
really cannot do anything else but score but the Spurs are great at maximizing the strengths of their players while minimizing the weaknesses.
Grade: A-
Toronto Raptors
Sorry folks, there is nothing to see here as the Raptors did not make any selections on Thursday night. Their first round selection in this year's draft went to Houston in the Kyle Lowry deal, which Houston then sent to Oklahoma City in the James Harden deal. Rumor has it that Toronto tried to trade into the first round, but to no avail.
Grade: Incomplete
Utah Jazz
For years, ever since Deron Williams forced his way out of Salt Lake City a few years ago, Utah has desperately needed a point guard and although I did not entirely love the cost, they did get the best poing guard in the draft in
Trey Burke
. He should be help out the club right away. They then moved up into the first at a low cost to select the French big
Rudy Gobert
, who is an athletic freak and could be a real defensive difference maker, the likes of which Utah does not have down low.
Grade: A-
Washington Wizards
Everybody saw the
Otto Porter
selection coming at three where he to be available and it makes sense on many levels as he fills a big need at the three, fits in really well to their system, is probably the safest pick in the draft and doesn't need to be the focal point of an offense. Plus, taking a Georgetown kid is never a bad idea. I also loved the
Glen Rice
,
Jr
. selection in the second. Considering he's coming in from the D-League, he should be able to contribute right away and it is a classic low-risk/high-reward pick.
Grade: A