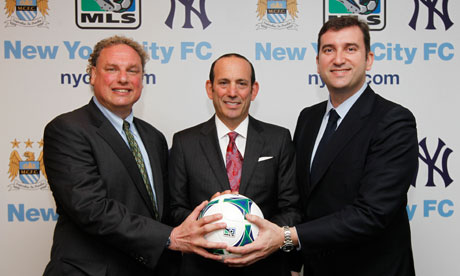 To most in the world, Major League Soccer is a joke. To many in this country, it is an afterthought. But while it has taken many steps for the league to gain respect, potentially none will be as important as today's announcement in the creation of New York City FC as a result of a collaboration of Manchester City and the New York Yankees. It is not a move without risk, but the rewards at play here are enormous.
New York City FC is not the first soccer club in the New York metropolitan area, that would be the New York Red Bulls, who tried to gain the fandom of the entire area in their birth as the immortal New York/New Jersey MetroStars, which is is almost on the level of absurdity as were the New York/New Jersey Hitmen. But while the Red Bulls have become respectable under their Red Bull ownership, and no longer play in front of embarrassing crowds at Giants Stadium but instead in the beautiful Red Bull Arena in Harrison, they have never been the flagship franchise that was hoped they would become. NYC FC has the opportunity to become that kind of franchise as it will be the first MLS franchise to play in the New York city limits (it will likely play first in Yankee Stadium before play begins in a brand new arena in Flushing Meadows).
The owners of the club are a big reason why this club has a chance to reach new heights. The owners of Manchester City have extremely deep pockets, which is a big reason why that club has found a large amount of success of late in the Premier League, including winning the title one year ago. And there is not one team in the New York area that has the cache and the connections that the Yankees do, connections that the MLS has been dying for.
The league does have a lot riding on NYC FC. After all, while the league has improved greatly since its inception, particularly in the last ten years with successful expansion into Canada and other markets across the county, it is barely a blip on the sports radar because the quality of play, albeit improving, still sucks. Therefore, there will be a lot of pressure on this new club, the 20th in MLS, to be a success because failure could have truly dangerous consequences for the league. After all, it is not a coincidence that the new club is debuting at the same time MLS will be negotiating a new television contract.
But while the deal is a risk, there is a lot to like here. The aforementioned ownership. Playing in a brand new area nearby beautiful CitiField. The immediate rivalry with the Red Bulls. It is quite possible that New York City FC will take Major League Soccer to new heights.