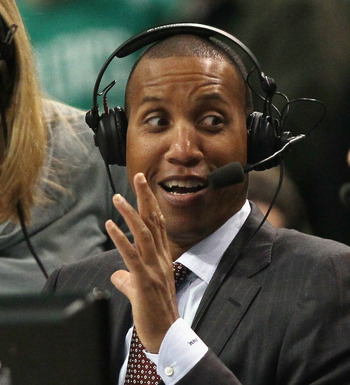 As we already know
, Reggie Miller is a really awful analyst and why TNT continues to employ him and give him big assignments, since 2005 no less, is a mystery to us all. Keeping that in mind, with a little more than two minutes to go in last night's NBA All-Star Game, Miller noted
a Bleacher Report article
with an interview with Michael Jordan regarding LeBron James's game. There was one problem, the Bleacher Report story was quoting a piece
by ESPN's Wright Thompson
, which Miller never mentioned. Let's go to the videotape.
Yeah, that's pretty bad. We understand the corporate synergy between Turner and Bleacher Report but you have got to be kidding me with that. And as you would expect, Thompson was not pleased.
Seriously?
— Wright Thompson (@wrightthompson) February 18, 2013
Fortunately, Ernie Johnson noted the mistake on the air and apologized for it.
And note that Miller's error came shortly after he said the Memphis Grizzlies were his sleeper team in the Eastern Conference.