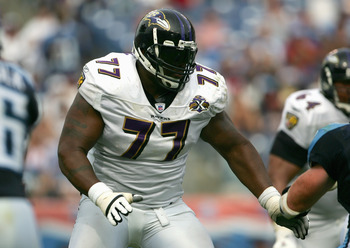 Just minutes ago, the Pro Football Hall of Fame announced the Class of 2013 with seven to be enshrined in Canton in August. The list includes guard Larry Allen, wideout Cris Carter, nose tackle Curley Culp, tackle Jonathan Ogden, who is the first Raven to be enshrined in the Hall, head coach Bill Parcells, linebacker Dave Robinson and defensive tackle Warren Sapp. Culp and Robinson were nominated by the Seniors Committee. Meet the 2013 Class and read my reactions after the break.
Snippets via
Pro Football Hall of Fame
Allen, a member of the NFL's All-Decade Teams of the 1990s and 2000s, earned first-team All-Pro honors seven straight times. In all, he played 14 seasons with the Dallas Cowboys and San Francisco 49ers.

Carter amassed 1,101 catches for 13,899 yards and 130 touchdowns during his 16-season NFL career. He recorded eight straight 1,000-yard seasons and had 42 career games with 100 or more receiving yards.

Culp was a defensive stalwart for 14 seasons, most notably with the Kansas City Chiefs and Houston Oilers. A six-time Pro Bowler, he was named the NFL's Defensive Player of the Year by NEA in 1975 after helping lead Houston to its first winning season in eight years.

Ogden, the first-ever draft pick of the Baltimore Ravens, excelled for 12 seasons. A strong pass protector and run blocker, he was named All-Pro six times, voted to 11 Pro Bowls and selected to the NFL's All-Decade Team of the 2000s.

Parcells turned around the fortunes of four franchises and remains the only coach ever to lead four different teams to the playoffs. Overall, he won 183 games that include victories in two Super Bowls.
Robinson, a vital cog in Vince Lombardi's tough Green Bay Packers defenses, earned first-team All-NFL acclaim three times and was voted to the NFL's All-Decade Team of the 1960s. He intercepted 27 passes in his 12-season career.
Sapp recorded 96.5 sacks in his career with the Tampa Bay Buccaneers and Oakland Raiders. He was named All-Pro four times, voted to seven Pro Bowls, and was selected to the NFL's All-Decade Teams of the 1990s and 2000s.
Not too many surprises with this year's class, with the one possible exception being Carter, who had been bogged down in the triumvirate including him, Tim Brown and Andre Reed as they were all generally viewed as Hall of Famers but none stuck out more than the other.
While there is not nearly as much of an issue as with the
Baseball Hall of Fame's voting
, there are some issues that have to be addressed. Unlike in baseball, voters can only vote for five guys on their ballot, as well as up to two seniors candidates, and in pretty much every year, there are guys that are deserving to get in that get left out because you can only vote for so many guys. That bogs down the vote, especially when you have deserving candidates who are starting to get on the ballot. You see that happening with Charles Haley, who is thought of by many as a Hall of Famer, including me, but he has been on the ballot for almost ten years because there are other candidates who are viewed as more deserving. Personally, I think they should up the maximum up towards ten because I am of the thought process that if you are deserving to get in the Hall, you should not have to wait.
Another issue with the voting is in regards to "contributors," like coaches, owners and personnel guys. We saw that with three high-profile candidates in Parcells, Art Modell and Eddie DeBartolo who are all deserving but only Parcells got in. That's because voters often prefer to vote in players before contributors and most vote for only one contributor on a ballot. I think a reasonable solution is to add contributors separately like the nominees by the Seniors Committee so they are not thrown in with players.