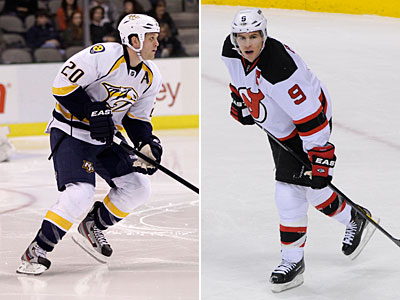 Two of the top Americans in the National Hockey League, as well as two of the top players on the free agent market, are headed to the Land of 1,000 Lakes as both Devils left winger
Zach Parise
and Predators defensemen
Ryan Suter
have both agreed to identical 13 years, $98 million contracts with the Minnesota Wild. What these two huge signings mean is that while both New Jersey and Nashville suffer huge loses, one will ultimately be fine, while the Wild appear headed for their best season in franchise history.
It started to appear in recent days that the two Midwest native were looking to possibly play together, Parise even saying the idea of so would be "
really cool
." And the Wild were certainly willing to bring in both stars and they even went so far to sign a mutual friend of theirs, center Jake Dowell,
to a two-year contract
. But it still comes as a surprise when it seemed that both wanted to go right to contenders, with one strong possibility being the Detroit Red Wings. Not that the Wild have not been competitive in their young history, they have, but they have only been to the playoffs three times and not since 2008. They were twelfth in the Western Conference a year ago.
And thus the Wild will be certainly be much improved, and a top contender out West, but let's not label them Cup contenders just yet. After all, they were twelfth a year ago so it is not like they can see the promised land before these huge moves. Plus Niklas Backstrom is getting up there in age, 34 years old, and he really did not play that great last season.
As for the Devils, this is obviously a huge hit as Parise has been a huge piece of their puzzle since his debut in 2005 and a key reason why they advanced to the 2012 Stanley Cup Finals, losing in six to Los Angeles. But all is not lost in Newark. The team made serious gains in Peter DeBoer's first season, Ilya Kovalchuk is still an elite offensive player (and now actually a two-way player), Travis Zajac will be back for the full season and there is a whole lot of excitement surrounding Adam Henrique, who had a tremendous rookie campaign in 2011-12.
And as for Nashville, this is a big loss as Suter was a key part of their tremendous defense and why they have been a Western Conference threat over the last few seasons. He and Shea Weber were the linchpins of their club. But with them all is also not completely lost, as long as they re-sign Weber long term. If Weber were to leave, then this blow is even bigger.