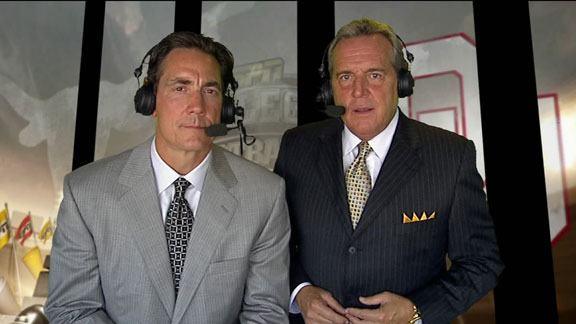 Here are those who I think are the best, worst, and the most underrated of the announcers of college football.
Best Play-by-Play
1. Brad Nessler, ESPN
Nessler has been one of my favorite announcers for years now. Sooner or later, he will become the lead voice of college football on ESPN and replace Brent Musburger. He and Todd Blackledge make for a great team.
2. Verne Lundquist, CBS
Lundquist is losing a little bit on his fastball but he still has plenty of excitement in him and has great chemistry with his partner Gary Danielson.
3. Sean McDonough, ESPN/ABC
Now football is not McDonough's best sport, it's either baseball or basketball, but he is very excitable and well informed.
4. Tom Hammond, NBC
Hammond has always been a solid football announcer and has done quality work for NBC for years.
5. Dave Pasch, ESPN
I could've put Pasch on the underrated list but he is coming more well known now as he has called some high quality games in the noon ESPN slot. Pasch is all around a very good broadcaster.
Best Analysts
1. Gary Danielson, CBS
Danielson has great knowledge of the sport and is one of the best at breaking down the play live. His chemistry with Verne may be unmatched but I wished he was less of an SEC homer.
2. Todd Blackledge, ESPN
Always has been a really solid analyst wherever he has worked and his Taste of the Town pieces are great. He and Nessler work really well off of each other.
3. Kirk Herbstreit, ABC/ESPN
Herbstreit has always shined as the straight man on College Gameday and he has really settled into his own as lead college football analyst for ESPN. He has really good chemistry with partner Brent Musburger (even though I think Musburger is pretty over the hill now).
4. Mike Mayock, NFL Network
The best draft guru, Mayock is terrific on game analysis as his meticulous preparation really shows off during the game.
5. Ed Cunningham, ESPN2
A very good nuts and bolts analyst who breaks down the play with ease. Getting a little more exposure somewhat with the primetime ESPN2 game but he will be working with the mediocre Mark Jones.
Worst Play-by-Play
1. Pam Ward, ESPNU
Ward is not at the top of this list because she is a woman (you will find a woman on the most underrated list). She is just simply an awful announcer in every way.
2. Mike Patrick, ABC/ESPN
Patrick for years has gotten high quality games despite not being very good. Too many times he is disinterested in the game (example:
Britney Spears mention in overtime
).
3. Craig Bolerjack, FSN/FX
For years he did SEC games on CBS when they had doubleheaders and he just flat out sucked. At least now he isn't on national television because he's a clown on TV who tries to get really excited at times and just fails.
4. Mark Jones, ESPN2
Jones is an average NBA announcer but he always been very subpar on college football, just does not have a good feel for the game.
5. Dave Ryan, CBS Sports Network
A guy that was a decent sideline reporter who is out of his element as a play-by-play guy.
Worst Analysts
1. Craig James, ESPN/ABC
Got a coach fired for punishing his spoiled brat son and tried to smear him, which also forced a solid football reporter in Bruce Feldman to be suspended for co-writing the book with Mike Leach. A really bad analyst to boot.
2. Bob Davie, ESPN/ABC
When you listen to him break down plays on air, you really start to realize how bad of a coach he must have been.
3. Rod Gilmore, ESPN
In his analysis, Gilmore makes so many head-scratching statements it makes you wonder if he is just sleeping during the play.
4. Matt Millen, ESPN/ABC
Millen used to be a tremendous analyst but for some reason just got awful after he ruined the Detroit Lions.
5. Dave Lapham, FSN
This guy likes to take random words and turn them into adjectives he uses in his analysis, just a fail of the English language.
Most Underrated Play-by-Play
1. Bob Wischusen, ESPN/ABC
I have always thought that guys who get their start in radio play-by-play often become better announcers because they do a really good job of describing the play and that is precisely what Wischusen does.
2. Beth Mowins, ESPN2
Proof that a woman can be a very good broadcaster, Mowins is a solid nuts and bolts announcer who describes the action pretty well.
3. Joel Meyers, FSN
Meyers has always done a solid job over the years on FSN and knows the sport very well.
4. Joe Tessitore, ESPN
A solid announcer saddled with the clown that is Rod Gilmore, Tessitore gets bonus points.
5. Carter Blackburn, ESPN/ABC
A young guy who has really come into his own announcing the sport.
Most Underrated Analysts
1. Charles Davis, FX
Always have enjoyed Davis' analytical work over the years and I think he has a bright future.
2. Mike Bellotti, ESPN2
Bellotti was very good in his first year as analyst last year and he's good at breaking down the action without being too technical.
3. Joel Klatt, FSN/FX
Klatt is surrounded by clowns in Bolerjack and Petros Papadakis but has shown a really bright knowledge of the game and is very good at breaking down the quarterback play.
4. Brian Griese, ESPNU
Not as big of a name as his father but is coming along well as an analyst. Has been better than his old man over the past couple of years.
5. Brock Huard, ESPN/ABC
Deserves the greater exposure he is getting on ESPN/ABC, very solid analyst.